Transportation
State and local officials press to increase rail safety regulations after Norfolk Southern derailments
Lawmakers want railroads to tell local emergency responders if hazardous materials are going through their towns.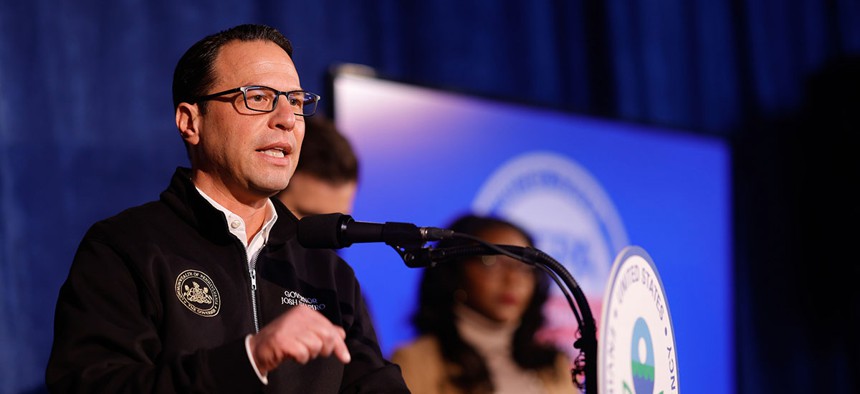 By Daniel C. Vock
Freight railroads are promising to improve safety systems as federal regulators and Congress step up their scrutiny of the industry, but local officials are still pressing for even more changes.
The derailment of a Norfolk Southern train hauling several cars of the gas vinyl chloride in East Palestine, Ohio, on Feb. 3 continues to spur calls to better monitor and secure shipments with hazardous materials.
Lawmakers in Ohio, Pennsylvania and other states are reviving proposals to require trains to have at least two crew members on board, something the freight rail industry has resisted for more than a decade. New York Gov. Kathy Hochul called for a faster phase-in of safer tank cars for hazardous materials, for better information to be provided to local officials about the transfer of hazardous materials and for more federal grants to be made available for hazmat preparations.
The National League of Cities is pushing for several changes, including requiring the Federal Railroad Administration to study the impact of freight railroads increasing the length of trains over the last decade.
In order to reduce costs, freight railroads have been moving toward a concept called "precision railroading," which involves fewer crews running longer trains on tighter schedules. That means that individual trains are often two or even three miles long. The train that derailed in East Palestine had 149 cars and three locomotives. Another Norfolk Southern train that derailed in Springfield, Ohio, earlier this week had 212 cars.
"Local governments have raised concerns about longer trains dividing communities in two in emergencies, causing fire trucks, ambulances and police to be cut off from their destinations with no clarity on how long a particular crossing might be blocked," Clarence Anthony, the CEO and executive director of the National League of Cities, wrote in a letter to congressional leaders. "This concern is now compounded by the shift to longer trains (referred to as precision railroading), which means each train is more likely to be carrying hazardous materials that could have similar environmental consequences to East Palestine when a derailment happens."
The National League of Cities also called for fines that freight railroads pay to be used to help local governments affected by derailments. "Any community who suffers an incident requiring a fine should expect the full support of the federal government to remedy the harm," Anthony wrote.
Pennsylvania Gov. Josh Shapiro met with Norfolk Southern's CEO earlier this week to secure payouts for residents near the East Palestine crash.
Much of the action to regulate railroads in the aftermath of the crash, though, is taking place at the federal level, as interstate commerce, including railroads, is the primary responsibility of the federal government. Both the FRA and the National Transportation Safety Board are conducting investigations of Norfolk Southern specifically, while also developing recommendations for improving safety in the industry as a whole.
The railroad industry is trying to head off some of the criticisms and the moves for more stringent regulations by addressing some common criticisms that have surfaced since the East Palestine derailment. The Association of American Railroads on Wednesday announced several industry-wide efforts related to those concerns.
For example, it said it is increasing access to its AskRail app, which is supposed to help first responders get up-to-date information on the contents of every car in a train and how to safely handle the freight in case of a derailment. The goal, the industry group said, is to double the number of first responders who have access to the app by the end of this year.
The railroads also said they would install more sensors to detect when bearings overheat, after the NTSB found that one of the bearings on the derailed Norfolk Southern train was 253 degrees Fahrenheit hotter than the air around it. A detector along the track alerted the crew about the overheated part, which prompted them to slow down the train. By the time they did, though, it was already too late. 
There is no federal requirement specifying how far apart the detectors should be. But the train that derailed in East Palestine had gone 20 miles between sensors when it was alerted to the overheated bearings.
The railroad association said the industry's standard has been to place detectors at least every 40 miles, but in light of the East Palestine derailment, it would set a "goal of achieving average spacing of 15 miles" in most cases. That means railroads would have to install roughly 1,000 new detectors, the group said.
The railroads' concessions address many of the initial demands raised by government officials, but it's unclear whether they will be enough to avoid tighter restrictions. 
One flash point is likely to be the move among railroads to rely on mechanical devices to monitor train cars rather than human inspectors.
Consolidating such potentially and demonstrably volatile rail traffic into already busy freight and passenger rail corridors in Ohio is a potential tragedy looking for a place to happen.
– Stuart Nicholson
U.S. Transportation Secretary Pete Buttigieg urged Norfolk Southern and other railroads to "deploy new inspection technologies without seeking permission to abandon human inspections."
"The removal of human inspections has been a top priority for the rail lobbyists. Recent waiver requests around technology like Automated Track Inspection (ATI) have been framed by industry to set up a false choice between technology and human oversight. We need both to keep our nation's railroads safe," the federal Transportation Department said in a statement.
The department also suggested that distributing the AskRail app might not be enough communication with local officials about hazardous materials. It is pursuing new requirements for railroads to notify state emergency response teams when hazardous gas tank cars are moving through their states "instead of expecting first responders to look up this information after an incident occurs."
Stuart Nicholson, the executive director of All Aboard Ohio, a passenger rail advocacy group, warned that the longer trains that railroads are using now put more stress on both the crew and the train cars themselves. He also said that concentrating more hazardous cargo on fewer lines could put more populated areas at risk, as well as disrupt passenger rail operations, in case of a derailment.
In fact, Nicholson sent a letter to Ohio regulators in April 2020 to "express serious concern" with Norfolk Southern's decision to shift shipments of oil, ethanol and natural gas away from rural central Ohio routes to the more populated areas in northern Ohio. He noted that the state had already seen several serious derailments of tank trains over the last decade, including one in the heart of Columbus.
"Consolidating such potentially and demonstrably volatile rail traffic into already busy freight and passenger rail corridors in Ohio is a potential tragedy looking for a place to happen," Nicholson wrote at the time. "It will also add traffic to a corridor that has also seen its share of grade crossing accidents and blocked crossings from delayed trains."
The shift was part of a consolidation of rail lines by Norfolk Southern, which wanted to downgrade its central Ohio lines from double tracks to single tracks.
"History shows that when a rail corridor loses track, it will more than likely never return; making that corridor less attractive to current or future shippers who depend on efficient service," Nicholson wrote.
"Ohio can ill afford to lose more of its railroad capacity and All Aboard Ohio is concerned we are witnessing the beginning of a similar loss of rail corridor that Ohio experienced in the 1960s and 70s. Much of what our state lost is gone for good: claimed by either real estate development or agricultural use," he added.
Daniel C. Vock is a senior reporter for Route Fifty, where this story originally appeared.