Interviews & Profiles
Derek Green has a family-focused approach to running for mayor of Philadelphia
The former City Councilmember says his parenting and political experience drives his campaign for the city's 100th mayor.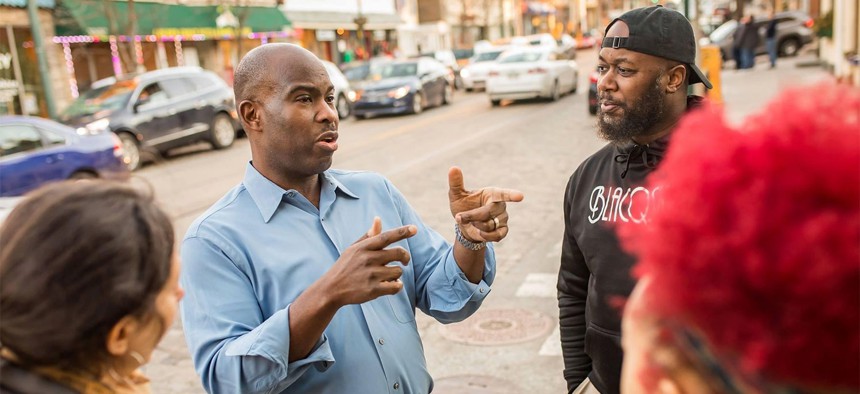 Inside Derek Green's Mount Airy home, you'll find pictures of loved ones and family – including his 22-year-old son, Julian – and you'll be greeted by his dog, Jagger – who Julian named after one of his favorite Maroon 5 songs. 
Julian was front and center in one of Green's first TV ads, where Green mentions that Julian goes to school with a note on his backpack explaining he's on the autism spectrum to avoid potential misunderstanding should he encounter police officers. 
Green, the former City Councilmember-turned-mayoral candidate, recently sat down with City & State to discuss his plans for the city. He said his son is always atop his mind, particularly when it comes to the contentious topic of police reform.  
"People want to see their city safe. They don't want to be prisoners of their homes, but at the same time, I believe we can reduce gun violence in our city and not over-criminalize people that look like my 22-year-old son," Green told City & State. "We need to be in the middle because the vast majority of us are in the middle."
With public safety leading most conversations around the race for Philadelphia's 100th mayor, Green said his approach is on improving police presence and accountability while creating opportunities and investments in neighborhoods being left behind. 
"All of these issues are interconnected, from poverty to gun violence. If we want our city to really be a better city … you have to work on all these issues as mayor," he said. "Not just gun violence, not just small businesses, not just affordable housing, not just education – you must have lived experience in all these perspectives and that's something that I bring to the table."
Green's public safety plan includes calls to add 1,000 officers to the city's police force through aggressive recruitment and the use of hiring bonuses. He touts his time as president of the national Democratic Municipal Officials and his involvement in the National League of Cities as a holistic perspective other candidates lack. 
"Look at what's happening in Baltimore, New York and Seattle. Seattle went from 'defund the police' to now offering $30,000 hiring bonuses," Green said. "Mayor Muriel Bowser of D.C. is advertising in Philadelphia … Other cities are using my idea to take our citizens away to make their cities safer."
Neil Oxman, a Democratic political consultant, told City & State that the "defund the police" narrative isn't popular across many communities in the city, and that ideology often plays a bigger role in someone's view of police than race. 
"The way both Blacks and whites think about crime in the city is universal, with exception to the very progressive white young kids who still want to defund the police," Oxman said. "Without calling for 'stricter policing,' there are (still) so many things you can do to improve the current police department." 
People want to see their city safe. They don't want to be prisoners of their homes, but at the same time, I believe we can reduce gun violence in our city and not over-criminalize people that look like my 22-year-old son.
– Derek Green
Green's Philadelphia roots run deep. He ran a Northwest Philadelphia retail shoe store with his wife, establishing a soft spot for small businesses in the city. And like fellow mayoral candidates Cherelle Parker and Maria Quiñones Sánchez, Green got his start in politics working underneath former Councilmember Marian Tasco in the early 2000s. Their collective ties to the Northwest Coalition – a politically-active voting bloc that includes middle-class neighborhoods such as Germantown and Mt. Airy – could splinter the community's political circles and play a major role in a close, crowded primary field. 
Once elected to City Council as an at-large candidate in 2015, Green turned his focus to financial prudence. While on Council, Green led pushes to cut the city's business and wage taxes. Now, he's made visiting small businesses across the city a focal point of his campaign. He's even made it a personal challenge to visit 100 small businesses during the final 100 days before the primary election. In doing so, Green stressed the need for better procurement practices and a public financial authority to assist small businesses in getting access to credit. 
"Too often cities only do procurement from the lowest responsible bidder and for local businesses – especially Black and brown businesses – that can be a challenge because you may not have the institutional knowledge and family support to be able to compete," Green said. "One of the best ways to address violence and public safety as a whole is to give someone a job, and small businesses are the best creators of that."
With most issues framed around larger public safety concerns, Green said his ability to adapt and overcome adversity – something he says Philadelphians know well – sets him apart from other Democratic candidates. 
"I think about Allen Iverson, someone that wasn't from Philly but came to Philadelphia. And although people didn't initially like his cornrows and long shorts, he became the embodiment of Philadelphia," Green said. "That's the type of city that we are. If you come to our city, even if you're not from our city, we are going to embrace you if you have that same type of lunch pail mentality."
4 quick questions with Derek Green:
What is your stance on having an elected school board? As someone who's seen elected school boards in other cities become really big money races, (I believe) we need to do a better job of appointing school board members that reflect the city and understand the issues. 
Would you consider a rent control system? I've talked to elected officials in New York and seen the impact it has had. Some say it creates a disincentive for property owners but I think what we do have is a poverty issue in the city. We have to raise the levels of income of people around the city and focus on affordable housing. 
Would you look to reform the soda tax? People need to know where the money went … I don't think people have a real understanding of how the soda tax helped us with universal pre-K and for debt service for a bond to remake our rec centers, libraries and parks. I think part of that narrative has been lost. 
How would you prioritize getting the city back to 2 million residents? There are a lot of people in my generation who grew up in Philadelphia and went away. Now, they're coming back to take care of older relatives and they're seeing some changes in the city, especially those that were positive before the pandemic. We have to market that Philadelphia to businesses that may be outside the city or overseas.