Capitol Beat
5 things we know, post-primary edition
Progressives prevailed in Pittsburgh and more special elections could be on the horizon.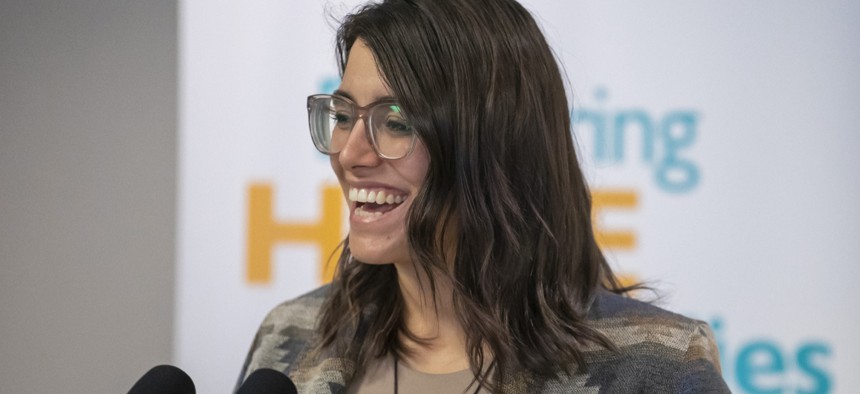 From the courts to the counties, there was plenty of action to follow on primary day in Pennsylvania. In Allegheny County, voters chose nominees for county executive, county council and district attorney in races that pitted progressives against more moderate Democrats. Meanwhile, Democrats successfully defended their state House majority in a special election for a vacant seat, and two vocal supporters of former President Donald Trump didn't see the results they were hoping for.
Below we take a look at some of the top stories to follow coming out of a busy municipal primary in the commonwealth. 
Allegheny County progressives win big, Philly progressives not so much
Tuesday was a big day for Allegheny County progressives, to say the least. Progressives won three major primaries in the county, with state Rep. Sara Innamorato winning the Democratic nomination for Allegheny County executive. Allegheny County Council member Bethany Hallam fended off a challenge from Joanna Doven in a contentious race for an at-large county council seat and Matt Dugan, the county's chief public defender, beat incumbent Stephen A. Zappala Jr. in the race for Allegheny County District Attorney. (But more on Zappala later.)
Progressives in Philadelphia, however, were unable to replicate that success, as former City Council member Helen Gym, who was backed by U.S. Rep. Alexandria Ocasio-Cortez and U.S. Sen. Bernie Sanders, fell short in the Democratic primary, and progressive at-large City Council candidates Erika Almiron and Amanda McIllmurray failed to land one of the top five slots to make the November ballot.
The price tag for House District 163 – and the majority
Democrats spent more than $1 million in their quest to hold onto their majority in the state House, vastly outspending Republicans, who had a chance to regain the majority following the resignation of Democratic state Rep. Mike Zabel.
While Democrats had no problem making the spend for the House District 163 special election, according to The Philadelphia Inquirer, House Republican leader Bryan Cutler said the outlay showed that Democrats were concerned about losing their majority. "Obviously, they were worried," Cutler told the Inquirer, without getting into why Republicans didn't match or exceed that effort in their own attempt to win back the majority.
That being said, Democrats won the race and still are in control of the state House – for now. 
Prominent Trump-aligned candidates lose their primaries
Tuesday's primary elections brought two tough blows to Trump-aligned candidates at the state and county levels. 
Commonwealth Court Judge Patricia McCullough, who temporarily halted the certification of the state's election results in 2020, was seeking the GOP nomination for a seat on the Pennsylvania Supreme Court. McCullough, who had the backing of conservative state Sen. Doug Mastriano, ultimately lost the primary to Carolyn Carluccio, a judge on the Montgomery County Court of Common Pleas.
At the county level, Montgomery County Commissioner Joe Gale, a supporter of Trump and the lone commissioner seeking reelection, is expected to fall short in the primary, as he finished third, behind Republicans Tom DiBello and Liz Ferry.
Zappala Jr. down but not out
Allegheny County District Attorney Stephen A. Zappala Jr. may have lost his primary this week, but that doesn't mean it's over for the incumbent DA. 
Republicans in Allegheny County sought to encourage GOP voters to write in Zappala – a Democrat – for DA in the leadup to the primary – and, according to WESA, Zappala is expected to have the write-in votes needed to run as the Republican nominee. 
On election night, Zappala said he's at "halftime of this campaign" and hinted that voters could see him on the ballot in several months, adding that "if we stick around until November, we can kick some ass and take some names."
More special elections could be on the way
If you're sick of special elections to fill vacant seats in the Pennsylvania General Assembly, you may be out of luck.
Two sitting state representatives won primaries Tuesday night, meaning that if they win in the general election in November, special elections will need to be held to fill their seats. 
Innamorato is one of the two candidates who was successful Tuesday night, winning the Democratic nod for Allegheny County executive. Meanwhile, in Bucks County, Democratic state Rep. John Galloway cross-filed as a Democrat and Republican in a district court judge race, winning both the Democratic and GOP nominations.
If they both win in November, expect two special elections to follow.