Capitol Beat
Shapiro weighs in on Trump indictment: 'Our democracy survived'
The governor addressed the former president's latest charges during a visit to Northeast Philadelphia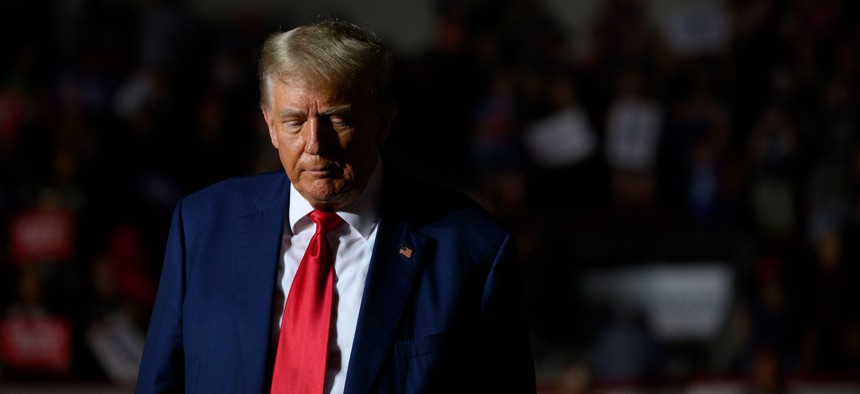 Former President Donald Trump's efforts to subvert the 2020 presidential election, which resulted in his latest federal indictment – handed down on Tuesday – directly involved Pennsylvania in a number of key ways. 
After yesterday's announcement of the four-count indictment against Trump and six co-conspirators who falsely claimed the election results in the commonwealth and other states were fraudulent, more details have emerged regarding the role Pennsylvania officials played in the weeks and months following the 2020 presidential election. 
And for the first time on Wednesday, Gov. Josh Shapiro directly addressed Trump's newest charges and the role that some Pennsylvanians played in the events that followed the 2020 election and Jan. 6 Capitol riots.
"We had a front-row seat here in the Commonwealth of Pennsylvania – and I certainly did as Attorney General – to see all of the efforts of the former president, and some of his enablers here in Pennsylvania, undertook to try and overthrow the last election (and) to try to thwart the will of the good people of Pennsylvania," Shapiro said at Steamfitters 420 in Northeast Philadelphia. "Ultimately, as we all know, they failed – and it's a good thing that they failed. Our democracy survived … and now the rule of law is showing that – as it has always been in our nation – it is applied equally and fairly across the board, no matter how powerful you are. The former president will now have to answer in a court of law for the crimes that he allegedly committed. That process will be underway in our court system, which is where it should play out."
The indictment alleges Trump and six others – including one who has been identified as Philadelphia native and former Department of Justice official Jeffrey Clark – were involved in a broad conspiracy to falsely claim Pennsylvania's election results as fraudulent and to convince state legislators to overturn them.
It lists Pennsylvania as one of seven states where slates of false electors were sought to cast votes in favor of Trump in 2020. U.S. Rep. Scott Perry – at that time an outspoken member of the House Freedom Caucus – has been linked as a crucial connection between Trump and Clark, whom Trump tried and failed to install as acting Attorney General. Emails obtained by federal investigators revealed Perry's communications with Clark, Trump election attorney John Eastman and others as they attempted to have state legislatures play a part in overthrowing Joe Biden as the duly elected President of the United States.
The indictment also lists a Nov. 11, 2020 tweet in which Trump called out then-Philadelphia City Commissioner Al Schmidt, a Republican, for saying there was no evidence of widespread fraud. Schmidt, who is now Secretary of the Commonwealth, later testified that the tweet led to him and his family receiving death threats. 
Another event listed in the indictment is a Nov. 25, 2020 hearing held in Gettysburg. The discussion, convened by state Sen. Doug Mastriano and Trump lawyer Rudy Guliani, included false claims by Giuliani that Pennsylvania sent out 1.8 million mail-in ballots but received 2.5 million in return. 
Republican strategist Sam Chen told WHYY that Giuliani's presence at the hearing created a direct link between the Trump campaign and efforts to overturn Pennsylvania's votes. 
"Because they brought Giuliani here, there is a member who has been representing the Trump campaign, now it puts the Trump campaign directly involved with the Gettysburg meeting, and that's where it becomes significant," Chen said. 
According to the indictment, Trump repeatedly raised allegations with Justice Department officials that there were 205,000 more votes than voters in the commonwealth – and he was informed those claims were false each time. Trump then retweeted a post referring to Republican leadership in Harrisburg as "cowards" after they released a statement saying the General Assembly lacked authority to overturn the popular vote and appoint its own slate of electors.
But on Jan. 6, as rioters stormed the Capitol building, Trump publicly repeated that false claim. 
The Republican Party of Pennsylvania did not respond to a request for comment. 
To learn more about the Pennsylvanians who are among the more than 1,000 people to have been arrested for their part in the failed Jan. 6 insurrection, City & State has begun a series on Pennsylvania's Capitol riot cases and where they stand as the country approaches the three-year mark since the attack occurred.