Opinion
Opportunity awaits as Philadelphia City Council members resign to run for mayor
Allan Domb resigned Monday to explore a bid for mayor. His and other members' impending vacancies need to be taken seriously.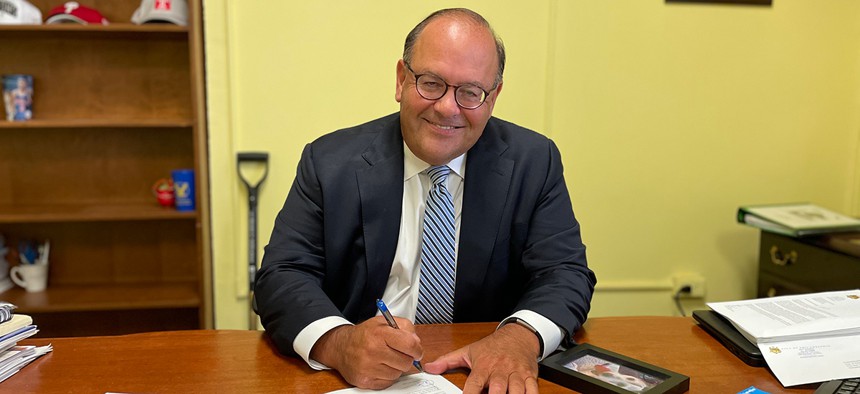 Philadelphia Mayor Jim Kenney's term will end in 2024 – just around the corner. With five Council members eyeing succeeding Kenney and rumors of Council President Darrell Clarke's retirement, Council will face a power vacuum that's rife with opportunity.
As it stands, four Democratic Council members have the seniority to replace Clarke: Mark Squilla, Kenyatta Johnson, Cindy Bass and Curtis Jones. Why is seniority needed? Technically, it's not. But Philly has a "wait your turn" style of politics. And, of the four Council members who meet the seniority criterion, only Bass and Jones are jockeying to replace the Council president, according to The Philadelphia Citizen. 
What may set them apart is that Jones has been in leadership for two consecutive terms. First, as majority leader and, presently, as majority whip. Neither of which actually matters because City Council is 88% Democrat. There's rarely a need to whip votes and herd colleagues because, with that make-up, there's almost always a consensus. And when there's not, the herding is usually done by the bill's primary sponsor. So, Council leadership, besides the Council presidency, is useless. But, despite their futility, those roles are still envied, which says something about Jones' ability to coalesce his colleagues.
To be clear, Council leadership is desirable not for the power (there is none), but for the salary increase. 
This year, base pay for a Council member is $142,751. 
Majority Deputy Whip: $145,664. 
Majority Whip: $150,034. 
Majority Leader: $152,947. 
Council President: $179,167. 
That's not the most money in the world, but it's appealing to a Council that is sufficiently middle class and in need of their salaries – except Council member Allan Domb who donates his. Having twice appealed to his colleagues to secure those desirable roles offers Jones a sharp advantage in his bid to be Council president. Whether he can sway the new members of Council will make the difference.
On the topic of new members, it's predicted that at least five will resign from Council to run for mayor. On that list are Council members Domb, Maria Quiñones Sánchez, Cherelle Parker, Derek Green and Helen Gym, whose resignations would vacate eight committee chairmanships. That includes the committees on Appropriations, Education, Labor and Civil Service, Law and Government, Fiscal Stability and Intergovernmental Cooperation, Finance, People with Disabilities and Special Needs, and Children and Youth.
In the time between their resignations and their successors' installations, the vice chairs of those committees usually take over by default. But even then, there will still be three committees – Law and Government, Education, and People with Disabilities and Special Needs – that will lack a chair and vice chair because both will be running for mayor.
You're probably wondering – what's with the emphasis on committee chairs? The chairs have an unspoken but well-understood patent on issues under their committee's oversight. Let's call it chairmanic deference. This deference is not wielded the same way committee chairs in other legislative bodies might use it. Elsewhere, they leverage their position to block legislation from being heard. That's uncommon in Council. But when, for example, the Department of Licenses and Inspection has a problem for Council to address, they deal almost expressly with the chair of the Committee on Licenses and Inspection. 
And even when a department turns to a Council member that's not their chair, they're directed to their committee chair – lest the chair accuse that Council member of snubbing their authority as chair. You can think of chairmanic deference as councilmanic-prerogative-adjacent. And it extends to stakeholders, too.
I've seen many people successfully lobby and persuade Council members that whatever issue they're advocating for is worthy to be acted on. But if it's immaterial to the committee that that Council member chairs, they'll punt the stakeholder to whoever chairs the relevant committee. One of the few times that won't happen is when the issue is too juicy to let another Council member steal.
But, when chairmanic deference is heeded – as it is more times than not – it offers chairs a lot of influence, namely when more impactful departments are under their committee's oversight – like the Department of Health, Police Department, Streets Department, and the like. So, when those five Council members leave, that control will lay in different hands. There will be new powerbrokers with deference on important sects of our city's issues.
Internally, it'll be quite an adjustment because when small institutions, like our 17-member City Council, lose members and gain new ones, it changes fundamentally. But this adjustment will be for the better. The old guard lacks the ingenuity to fix the problems we face. Our city would be better off with a fresh wind of young ideators like Council members Isaiah Thomas and Katherine Gilmore-Richardson who've both come in hot in their first term, which is unusual for freshmen members.
Council's 40-plus-year veteran, Council member Brian O'Neill, said as much while applauding Clarke for "allowing first-term members to participate at the level that they do." Because, as he went on to quip, "You couldn't participate in your fourth term not that many years ago and particularly at that level." 
Already, Gilmore-Richardson created the Philly Tree Fund to restore our city's tree canopy, and she gave graduates of career technical education programs a leg-up in securing jobs. And, whether you agree with it or not, Thomas got his colleagues to end minor traffic stops that disproportionately impacted Black people. Then, the two joined forces to introduce legislation to lower the Business Income and Receipts Tax and the Wage Tax. Beasts, these two.
And that's what happens when you give young people the space to be great. We need to vote more of them into office. But therein lies the rub: Philadelphians must vote. Lest we have another legislative session where Council members do little but introduce a flurry of resolutions celebrating occasions as futile as National Bubble Wrap Appreciation Day.
Let's be wise about who we choose to replace those five Council members.
Jemille Q. Duncan is a public policy professional and a student at Swarthmore College. He is the former aide of two Philadelphia City Council members and a Pennsylvania state senator.