Interviews & Profiles
A Q&A with state Sen. Devlin Robinson
The chair of the state Senate Labor & Industry Committee discusses workforce development efforts.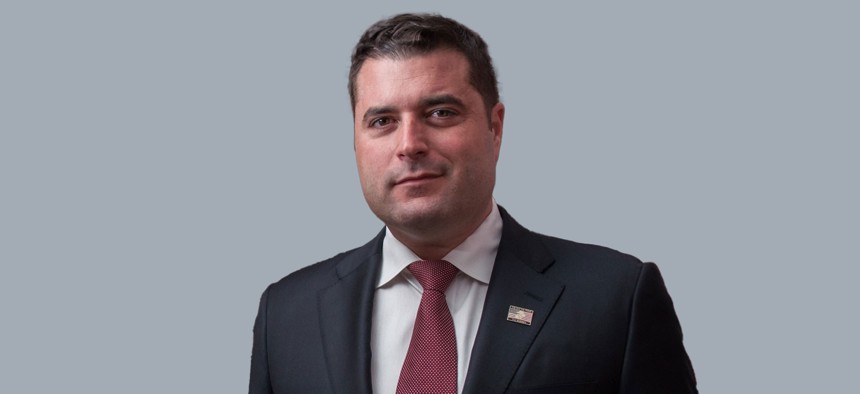 In the following interview, Devlin Robinson discusses major bills that have moved through the committee this year, investments in workforce development in this year's budget and how universities and engineering firms can work together in advanced manufacturing.
This interview has been edited and condensed for length and clarity.
Is there anything that you're particularly proud of in terms of the work the committee has done this session? 
We moved a bill out of the committee this year to help firefighters and other first responders get the help that they need with post-traumatic stress injuries. Being a veteran, that is something that is close to my heart. I'm a big proponent of people seeking mental health care – should they need it – and getting back into the workforce to do what they love to do. 
We moved Sen. Wayne Langerholc's bill that establishes the Recovery to Work program – innovative legislation that would support local pilot programs to assist individuals in addiction recovery and help them find employment. 
So a lot of the legislation that passed this year is trying to get people back into the workforce and continue to make Pennsylvania successful. 
I was very happy to support the state budget – it invests $23.5 million in workforce training and vo-tech; $6 million in additional funding to support apprenticeships and pre-apprenticeship programs and $3.5 million to support the continuation of the Schools to Work grant program. 
Walk me through the Max Manufacturing Initiative Act, which would involve some collaboration between universities and engineering entities. 
It was one of the first pieces of legislation that I had the honor of sponsoring in 2021. But the bill establishes a grant and loan program – it creates opportunities for the state universities and private engineering firms that are engaged in advanced manufacturing and 3D printing and things like that. It gives them incentives to actually work together.
Our four state-related universities and those engineering firms work together to utilize their expertise on projects that are started in the universities and have grown beyond the lab and need a place to go.
Are there any untapped workforce development opportunities that the state should be working on?
I don't know what this period of history is going to be called – if we're going to call this the Post-COVID Boom, if this is going to be called the Tech Bubble Burst  – I don't really know. I do know that the workforce is changing. 
Adults who have already been in the workforce are thinking about changing careers. Then there's students who will graduate from high school and look at where they're going to invest their time and their training. That's where I think that Pennsylvania could be a leader – in helping both of those parties succeed and stay in Pennsylvania and become productive citizens.
You also serve on the state Commission on Education and Economic Competitiveness – what does that entail?
We have only had one meeting so far. We created a bipartisan vision for 21st-century education that will prepare students to compete in the global economy. We established policies to give school districts the support and flexibility they need. We recommended legislative actions and shared goals and things like that, so it was very preliminary.
Looking at economic competitiveness more broadly, what do you think is needed at the end of the day to make PA more competitive?
We've had a very robust and professional and educated workforce to take advantage of natural resources. In the past 50 years, we started transforming those natural resources and using them in a much more safe and environmentally friendly way. The technology that's coming out of the universities around here has been able to help private industry get to that point of utilizing these opportunities in the most safe and effective way.
We have the natural resources, we have the workforce and we have a very low cost of living. People are moving into my district from all over the country. Whenever you ask them, it's because they said that they were able to Google "affordable home prices." They were selling a two-bedroom house and were able to get a four-bedroom house for cheaper than in their former hometown.
To be competitive, we're trying to accelerate the Corporate Net Income Tax reduction. Permitting reform is going to be the most important thing. How we're able to utilize both of those – and utilize those natural resources in a safe and environmentally effective manner – is going to put us on the path for the next century.