News & Politics
Dave White and Bill McSwain trade barbs as governor's race intensifies
Trump statement sets off fued between the two southeastern Pennsylvania candidates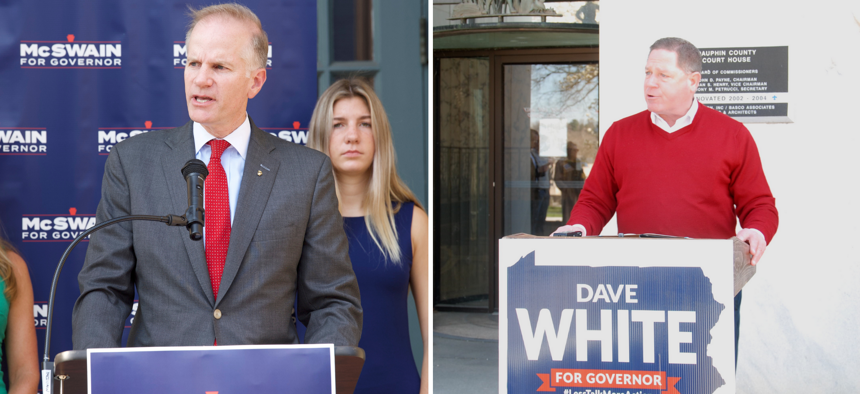 After former President Donald Trump unexpectedly waded into Pennsylvania's race for governor this week, attacks between GOP candidates suddenly intensified as each sought to outflank one another before voters cast their ballots in May. 
Republicans Dave White and Bill McSwain have focused their sights on each other this week following Trump's decision to denounce McSwain's candidacy and encourage voters not to vote for McSwain. 
Citing claims of widespread election fraud that have been refuted by one of his judicial appointees and members of his own administration, Trump said McSwain did "absolutely nothing" on Trump's fraud claims, and said he would not endorse McSwain. "Do not vote for Bill McSwain, a coward, who let our Country down," Trump said in a statement on April 12. 
The "anti-endorsement," as some are calling it, sent shock waves through the Republican primary field, even prompting state Senate President Jake Corman to rethink his decision to drop out of the race. It also sparked a feud between White and McSwain, with White, a Delaware County businessman and former local official, quickly launching a new TV ad that looks to tie McSwain to U.S. Sen. Pat Toomey. 
The 30-second ad refers to McSwain, a former U.S. attorney, as "Never Trumper Pat Toomey's puppet" and highlights Trump's statement urging voters not to cast their ballot for McSwain. The ad then frames White as a "Trump conservative" who will support the elimination of mail-in ballots and the implementation of stronger voter ID requirements in the state. 
Republican gubernatorial candidate Dave White has released a new ad attacking former U.S. attorney Bill McSwain, who is also running for the GOP nomination. https://t.co/pUTSsaHpGh

— Justin Sweitzer (@justin_sweitzer) April 14, 2022
McSwain's campaign responded by taking aim at White's most recent campaign finance report, which showed that White took donations from certain union political action committees that have donated to Democrats – such as Gov. Tom Wolf, Attorney General Josh Shapiro and 2016 Democratic presidential nominee Hillary Clinton – in the past. 
In the first three months of 2022, White's campaign accepted contributions from multiple union PACs, the largest of which came from the UA Union Plumbers & Pipefitters Vote! PAC, the Steamfitters Local Union #420 Committee on Political Action Education, the Plumbers Union Local 690 Election Political Action Fund and the Steamfitters Local Union 499 PAC Fund. Donations from those four unions alone accounted for $345,000 of the $588,500 White received from political committees during the most recent reporting cycle. 
Each of the four unions have also donated to Wolf, Shapiro, Clinton, or a combination of the three, in past election cycles. Additionally, each union has donated to Democrats and Republicans in Pennsylvania, according to a review of state and federal campaign finance filings. 
The McSwain campaign seized on the donations and looked to tie White to liberal policies following the release of White's new ad on Thursday. "Liberal Democrats have flocked to Dave White because he reflects their values – bigger government and higher taxes," McSwain spokesperson Rachel Tripp said in a statement. "A candidate's supporters reflect his priorities, and White's priorities resonate with Clinton, Biden, Shapiro, and Wolf donors, who know that they can rely on White to protect their interests."
In a statement, White's campaign manager Bob Salera referred to McSwain's campaign as "a dead in the water campaign desperately flailing in an effort to stay relevant." "President Trump told Pennsylvania Republicans to vote against failed U.S. Attorney Bill McSwain for a reason – he's a puppet of Pat Toomey who did absolutely nothing to help Pennsylvanians when he was in office," Salera said, adding that White's supporters "come from the same coalition of blue-collar workers that put President Trump in office. "At this point, we're not sure Bill McSwain has any supporters left." 
The war of words between White and McSwain also came on the heels of a new poll on the GOP gubernatorial primary that showed McSwain gaining traction prior to Trump's statement. The poll, conducted by Eagle Consulting Group, showed Republican state Sen. Doug Mastriano in the lead with support from 19% of likely Republican voters, with McSwain coming in second with 12.7%. Nearly 45% of voters surveyed said they were undecided. 
Christopher Nicholas, a veteran GOP consultant who is the president of Eagle Consulting Group, said in a statement that the poll serves as a "benchmark" for the GOP primary given that it was conducted just before Trump publicly criticized McSwain. To date, Trump has yet to make an official endorsement in the primary race. The Democratic and Republican primary elections for governor take place on May 17.