News & Politics
Democrats fail in efforts to force votes on gun legislation in Harrisburg
In wake of recent mass shootings, Democrats accused Republicans of blocking action on gun-related reforms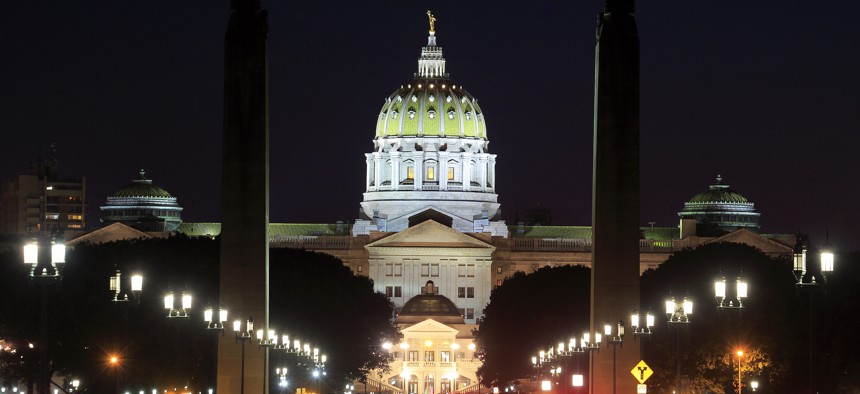 Amid threats from Democrats to circumvent the committee process in order to advance legislation to overhaul the state's gun laws, Republican lawmakers on Monday thwarted plans to pressure them into holding votes on measures to enact new gun laws.
The House Judiciary Committee voted Monday to kick a slate of gun law reforms to another committee less than a day after the announcement of a federal compromise on gun violence prevention efforts, undermining efforts from Democrats to use a rare parliamentary maneuver to force a vote on the legislation. 
The measures sought by Democrats included legislation to implement a state-level red flag law, ban large-capacity semi-automatic firearms and allow local governments to implement their own gun restrictions. 
I can't sit through this pretending this is anything more than efforts to bury these bills. That's what this is.
State Rep. Mike Zabel
The committee voted to recommit the bills to the House Local Government Committee, effectively kneecapping efforts to extract the bills from committee using a discharge resolution. Republicans looked to pin the blame on recent mass shootings, including one in Philadelphia, on criminals and lax district attorneys, rather than on guns. 
"The blood on your hands rhetoric is the kind of rhetoric that has gotten us where we are in this nation," said House Judiciary Chair Rob Kauffman, who previously vowed not to hold a vote on red flag legislation. "The blood is on the hands of the criminals who illegally obtain and use firearms in the city of Philadelphia and in other places around this country that are unfettered by the out-of-control district attorneys."
State Rep. Johnathan Hershey, a Republican from Juniata County, added that with a new federal deal on gun violence prevention reached in Washington, state lawmakers should wait on acting on the bills introduced by House Democrats. 
"I think with the recent announcement of some federal bipartisan agreement on these issues, and with some of these bills seeking to undermine some of our state preemption laws that we currently have … I think the most appropriate motion for us today is to have this conversation at a later date," Hershey said. 
Democrats accused Republicans of refusing to act on gun legislation, with one Democratic lawmaker, state Rep. Chris Rabb of Philadelphia, calling the House Judiciary Committee meeting a sham. State Rep. Mike Zabel, a Democrat from Delaware County, said Republicans were purposefully burying the bills.
"I can't sit through this pretending this is anything more than efforts to bury these bills. That's what this is. We've got to be honest. That's what this is for," Zabel said. "This isn't moving the ball forward. This is kicking it under the bleachers." 
In the Senate, Democrats attempted to call up a vote on Senate Bill 134, which would create a so-called "red flag law" that would allow courts to issue a temporary order that removes firearms from the possession of someone who is deemed to be a danger to themself or others. That effort also failed, with Republicans voting against the discharge resolution 28 to 21. 
In a statement, Gov. Tom Wolf criticized Republicans for refusing to hold votes on the Democratic proposal. "Shameful. That's what I'd call today's action – or, rather, inaction," Wolf said in a statement. "Lawmakers have an opportunity to take commonsense steps, which the majority of Pennsylvanians support. Instead of taking a vote to advance these bills, they are just delaying debate on this legislation. Gun violence won't delay. Every day the Republicans stall, more people are at risk."
Republicans, however, did move forward with another effort that they say will curb crime: impeaching Philadelphia District Attorney Larry Krasner. A trio of GOP lawmakers announced plans to introduce articles of impeachment against Krasner on Monday, accusing Krasner of a "willful refusal to enforce Pennsylvania's criminal laws."
House Majority Leader Kerry Benninghoff expressed an openness to moving ahead with impeachment proceedings, saying "now is the time to have a serious discussion" about impeaching the second-term district attorney.
"Philadelphia's unchecked crime problem is a statewide concern and the District Attorney's open refusal to enforce current Pennsylvania law in the city is a clear dereliction of his duty to keep Philadelphians and Pennsylvanians safe," Benninghoff said. "I look forward to seeing what these members come up with as they continue with this very important undertaking."