Gun Control
Gun control bill once again amended and replaced with GOP concealed-carry legislation
The House Judiciary Committee voted to amend a firearm background check bill, changing it into a constitutional carry proposal.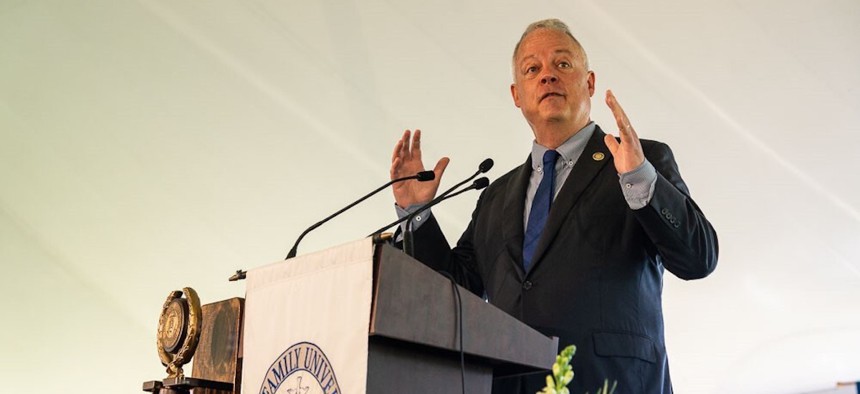 Some House lawmakers may be feeling a bit of deja vu. For the second time in a week, GOP legislators voted to amend a Democratic gun control bill and replace it with language from previously vetoed concealed-carry legislation. 
This time around, the House Judiciary Committee voted to amend state Rep. Perry Warren's firearm background check bill, House Bill 235, turning it into a proposal to eliminate concealed carry permits and make the commonwealth a constitutional carry state. Warren, a Democrat from Bucks County, introduced his legislation last year to establish universal background checks for all firearms sales, including the private sale of long guns. 
The amended language mirrors a constitutional carry bill that replaced state Rep. Peter Schweyer's proposal last week to ban anyone younger than 21 from purchasing assault weapons, as well as a Senate bill that narrowly passed the General Assembly last year before being vetoed by Gov. Tom Wolf. 
Tuesday, the House Judiciary Committee voted 14-11 to amend HB 235. State Rep. Todd Stephens, a Republican from Montgomery County, was the lone GOP lawmaker to vote in the negative. Stephens supported the original background check legislation, stating that existing public safety provisions are "meaningless" if a proper background check system isn't in place. 
"I believe that we have provisions in the law which properly prevent certain people from possessing firearms – felons – those with serious mental health issues, those who've been involuntarily committed, etc.," Stephens said. "To me, not having background checks for all firearms is akin to really turning a blind eye towards the other laws that we have in place." 
State Rep. Rob Kauffman, chair of the House Judiciary Committee, defended the move by re-referring to the state Constitution. 
"While I know it's common these days to attempt to ignore the Second Amendment and the Supreme Court's recent decisions, the Pennsylvania Constitution is very explicit," Kauffman said, a Republican from Franklin County. "The right of the citizens to bear arms in defense of themselves in the state shall not be questioned."
Democrats, on the other hand, expressed frustration with the lack of discussion about gun control legislation. 
"We can actually get guns out of the hands of people who should not and cannot be trusted to have firearms because they are a danger to themselves or to others based on our laws and based on court orders," state Rep. Emily Kinkead, a Democrat from Allegheny County said. "Instead, we are going again in the opposite direction where we are trying to give people unfettered permitless access to conceal carry a gun. That is the opposite of what the majority of Pennsylvanians are asking us to do." 
Following the initial bill language replacement occurrence last week, Schweyer attempted to call up the bill in the House to force a vote on the floor. The resolution to pull the bill out of committee ultimately failed. 
Democratic efforts to bring gun control legislation up for consideration have turned into a weeks-long endeavor during the fallout of the mass shootings in Buffalo, New York and Uvalde, Texas. House Democrats also attempted to use a discharge resolution to bring gun control bills to the floor on June 9, but House Speaker Bryan Cutler adjourned the House and canceled the following day's session. 
HB 235 remains in the committee even after the amendment.