News & Politics
Josh Shapiro announces support for Fairness Act
The Democratic governor said Wednesday that it is "long past time" to pass nondiscrimination protections for the LGBTQ community.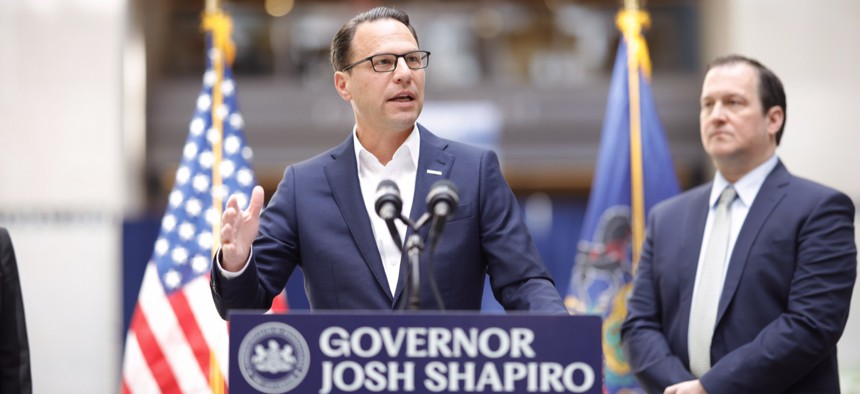 Gov. Josh Shapiro on Wednesday called for lawmakers to swiftly pass legislation that enshrines nondiscrimination protections for LGBTQ Pennsylvanians into state law, saying it is "long past time" for the bill to become law in Pennsylvania. 
"This bill is an important step towards building a better, stronger Commonwealth – one where all Pennsylvanians receive equal protection under the law, regardless of what you look like, where you come from, who you love, or who you pray to," the governor said in a statement released on Wednesday. "I would proudly sign this bill – and I am urging leaders in the House and the Senate to get it to my desk as fast as possible." 
Proponents of the bill, which is known as the Fairness Act, converged on the steps of the state Capitol earlier in the day to rally in support of the measure. Democratic state Rep. Malcolm Kenyatta is the prime sponsor of the bill, and expressed confidence Wednesday that the bill will pass the chamber soon.
"It took 22 years, but in a couple of days, we are going to get this bill passed out of the Pennsylvania House of Representatives," Kenyatta said at the rally. 
The legislation, House Bill 300, would prohibit LGBTQ Pennsylvanians from being denied housing, public accommodations, employment and public accommodations based on their sexual orientation or gender identity. 
According to the Movement Advancement Project, a think tank that researches LGBTQ issues, 23 states have laws on the books that prohibit discrimination based on sexual orientation or gender identity, though in December of last year, then-Gov. Tom Wolf backed a regulatory change that formalized similar protections through the regulatory process, according to Spotlight PA.   
Republican state Rep. Eric Nelson expressed concerns with components of the HB 300, suggesting that medical professionals who refuse to perform gender reassignment procedures due to religious beliefs could be penalized under the legislation. 
"It ultimately places the liberty of one group above another," Nelson said. Nelson said he would introduce a separate bill to address his concerns with the legislation. 
HB 300 was considered for the second time on Wednesday and now awaits a final vote in the House. It will then need to be approved by the state Senate before it can go to Shapiro's desk for his signature. 
A spokesperson for Senate Majority Leader Joe Pittman did not immediately comment on the status of the bill once it reaches the Senate. 
Shapiro doesn't want lawmakers to waste any time. "This is about ensuring all Pennsylvanians are protected under the law equally and expanding real freedom in our commonwealth," he said. "It's time to get it done."