News & Politics
5 things you may have missed in Harrisburg this week
From Gov. Josh Shapiro signing his first bill to a flurry of action in the House and Senate, there was a lot that went down this week.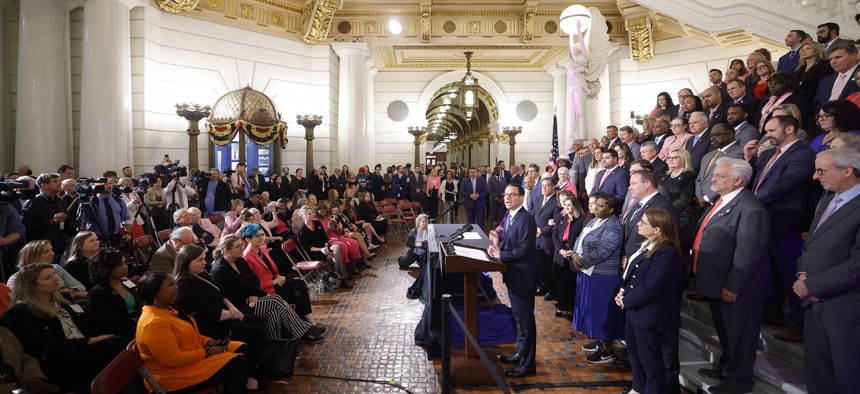 This week marked a return to session for state lawmakers, with both chambers staying active in a week highlighted by a bill signing, plenty of legislative debates and the confirmation of three of Gov. Josh Shapiro's cabinet nominees. 
It's easy to lose track of legislation and other key developments during the hustle and bustle of a session week, so we're recapping some of the biggest developments this week from inside the Capitol.
Josh Shapiro signs his first bill
Shapiro was joined by Democrats and Republicans in the rotunda of the state Capitol on Monday to sign legislation that expands insurance coverage for screenings and testing for those at a higher risk of developing breast cancer. 
The Democratic governor struck a tone of bipartisanship, praising Republican Senate President Pro Tempore Kim Ward – a breast cancer survivor – for her work on the bill. "No one should avoid getting these potentially life-saving treatments because they can't afford it – and thanks to Kim Ward, they won't have to," Shapiro said.
The praise prompted Ward to joke that she needs to bring Shapiro to stump for her the next time she's up for election. "I'm going to take you on the campaign trail with me so you can say all this," she said. Most important, Ward added, is the impact the bill will have on Pennsylvanians. "We can do big things in this legislature and this was a very good first start to helping women and families."
A ban on safe-injection sites gets approval in the Senate
Another bill that received bipartisan support this week is legislation that would ban so-called safe injection sites from being located in the state. 
The bill was spurred by a nonprofit's efforts to open such a site in Philadelphia. The facilities, which are designed to provide a space for people with addiction to use illegal drugs in a supervised environment aimed at preventing and reversing overdoses, have prompted controversy, with critics fearing the sites will only enable and worsen addiction. 
"The vote today shows it doesn't matter how rural or urban, liberal or conservative, or how far east or far west your district is – addictions affect every square inch of Pennsylvania and we need to prioritize recovery and sobriety," state Sen. Christine Tartaglione, a Philadelphia Democrat who is the prime sponsor of the bill, said in a statement. 
The legislation, Senate Bill 165, passed Monday on a 41-9 vote, with 28 Republicans and 13 Democrats supporting the measure; nine Democrats opposed it. It now heads to the House for consideration.
State Sen. Nikil Saval, who voted against the bill, said during a speech on the Senate floor that the debate around safe-injection sites was "riddled with misconceptions. These spaces are tools with a single purpose: to reduce harm and promote health for some of the most vulnerable and marginalized members of our society," he said. 
House passes non-discrimination protections for LGBTQ Pennsylvanians
Flexing their new power in the Pennsylvania House of Representatives, Democrats advanced legislation this week that would prohibit LGBTQ Pennsylvanians from being denied housing, employment or public accommodations based on their sexual orientation or gender identity.
The bill, House Bill 300, advanced on Tuesday via a razor-thin 102-98 vote. All but two Republicans voted against the legislation, while every Democrat except for one voted in favor of the legislation. 
The bill's sponsors noted its landmark passage in a joint statement released on Tuesday. "Today is a historic day as we take a critical step to make Pennsylvania fairer," they said. 
Republicans expressed concerns that the legislation would infringe on religious liberties. "Discrimination in any form is one of the worst expressions of human nature," House Minority Leader Bryan Cutler said during floor remarks. "This bill, as outlined, would create the potential for a new form of religious discrimination. It would tell people of faith, especially religious employers, that their rights end where others' begin."
The legislation has the support of Shapiro, who has called on lawmakers to get the legislation to his desk "as fast as possible."
The Senate confirms cabinet secretaries
Three people nominated for cabinet-level positions in Shapiro's administration will no longer need to put "acting" before their titles. 
PennDOT Secretary Mike Carroll, Aging Secretary Jason Kavulich and Community and Economic Development Secretary Rick Siger were all confirmed by the state Senate on Wednesday by unanimous vote. 
Union-backed bills advance
Democrats in the state House teed up two labor-specific bills for a vote this week, including legislation that would expand Occupational Safety and Health Act protections to public workers and employers, as well as a proposed constitutional amendment that would enshrine both the right to organize and the right to collective bargaining in the state constitution. 
Unions throughout the state celebrated the passage of the OSHA legislation – House Bill 299 – with AFSCME Council 13 calling the bill's passage a "major victory" and the SEIU Pennsylvania State Council calling on Senate lawmakers to "take up the issue immediately." The bill passed by a 116-85 margin in the House, with 15 Republicans joining the entire House Democratic Caucus in voting for the bill. 
The proposed constitutional amendment, House Bill 950, was not as warmly received, with only one Republican joining all Democrats in voting for it. 
David Osborne, a fellow for labor policy for the right-leaning Commonwealth Foundation, criticized the bill, saying in a statement that it's "disappointing to see lawmakers put the interests of special interest groups above those of Pennsylvania workers."