General Assembly
PA House passes $5M expansion of nonprofit security grant program
The program was created in 2019 following the Pittsburgh Tree of Life synagogue shooting.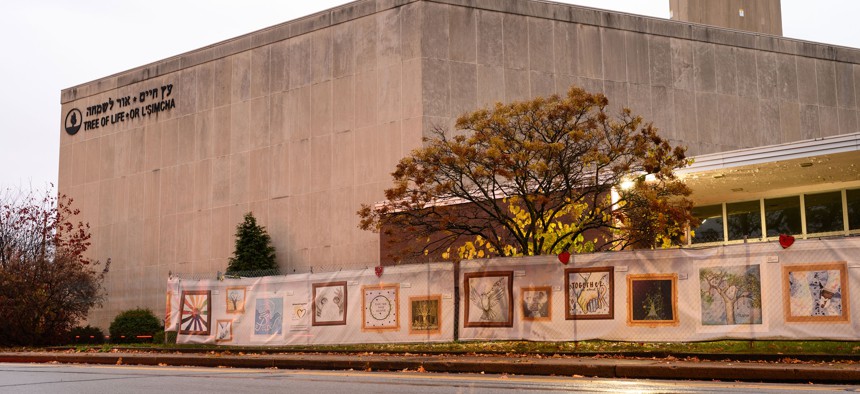 As public officials continue to keep a close eye on acts of antisemitism in Pennsylvania amid the ongoing Israel-Hamas war, lawmakers in the Pennsylvania House passed legislation this week that would increase the amount of grant funding available for houses of worship and other nonprofits to make security improvements to their facilities.
House lawmakers voted 153-49 on Tuesday to approve House Bill 1772, which expands the total amount of grant funding available for this fiscal year from $5 million to $10 million.
Under the legislation, $5 million will be transferred from the state's General Fund to the Nonprofit Security Grant Fund to fund the increase.
Eligible nonprofit organizations can use the grants to make a range of security improvements under the program, which was established under Act 83 of 2019. Grants can be used for safety and security planning, the purchase of security equipment, safety and security training initiatives, threat awareness and response training, and upgrades to existing facilities and structures, among other uses.
According to the 2019 law, which was approved following the 2018 Pittsburgh Tree of Life synagogue shooting, the program is targeted toward nonprofits that serve "individuals, groups or institutions that are included within a bias motivation category for single bias hate crime incidents identified by the Federal Bureau of Investigation in its 2017 Hate Crime Statistics publication."
Organizations that have received grants in the past include Congregation Dor Hadash, a congregation that was one of three congregations that shared Pittsburgh's Tree of Life synagogue back in 2018 – the same year that a gunman entered the synagogue and murdered 11 worshippers. The congregation received a $12,000 grant this year, as did the Jewish Federation of Greater Pittsburgh, which was awarded a $150,000 grant.
House Appropriations Committee Chair Jordan Harris, the prime sponsor of HB 1772, said in a statement that the grant program "not only fortifies physical structures but also fosters a sense of belonging and harmony within our communities."
"In a diverse and inclusive society, every individual should feel safe and secure when they gather, regardless of their race, ethnicity, religion, sexual orientation, disability, or gender," Harris said in a statement. "House Bill 1772, which I sponsored, stands as a beacon of our commitment to protect the sanctity of these spaces. "
Senate Democratic Leader Jay Costa also celebrated the bill's passage. "I am extremely proud of the nonprofit security program, and I am glad we are expanding it to meet the overwhelming demand from the community," Costa said in a statement, adding that the program has delivered "critical security upgrades in Allegheny County and across Pennsylvania."
The bill still needs approval from the state Senate before reaching the governor's desk.