Campaigns & Elections
This week's headlines: Republicans renew push for election reforms and Fetterman touts his recovery
A roundup of the week's political news.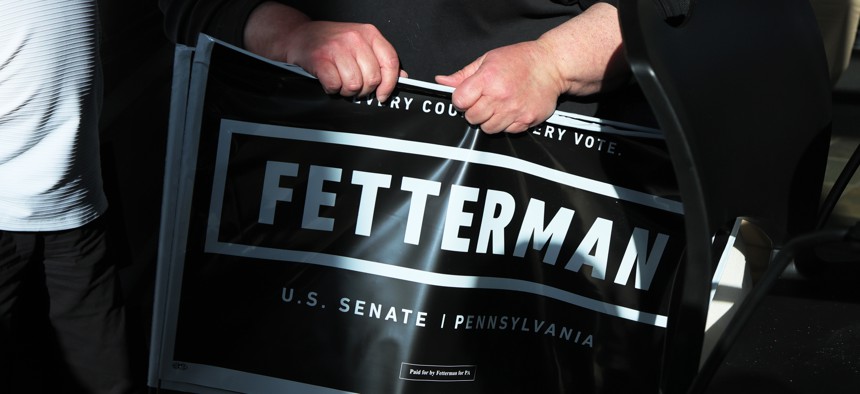 Is there ever a dull week in Pennsylvania politics? This week brought lots of dueling memes to the state's U.S. Senate race, raised questions about whether or not GOP gubernatorial candidate Doug Mastriano has been deleting key Facebook videos and even saw a major bipartisan push in Congress to enshrine same-sex marriage protections in federal law. And this was a slow week. For more politics and government news from the Keystone State, keep reading. 
John Fetterman claims he is returning to the campaign trail
Just as Republican Senate nominee Dr. Mehmet Oz began to ramp up attacks on John Fetterman's lack of public appearances, Fetterman gave his first public interview this week, albeit virtually, and was slated to attend a Democratic fundraiser on Thursday. In an interview with the Pittsburgh Post-Gazette, Fetterman said he's "feeling really good" and has "nothing to hide" in regard to his health, adding that he has been walking four to five miles each day.
Pennsylvania elections are back in the spotlight
Republicans once again have their eyes on changing the state's election laws. House State Government Committee Chair Seth Grove unveiled a new report this week, detailing election-related issues experienced in the state since 2021, which Grove said underscores the need for large-scale election law revisions sooner rather than later. Meanwhile, 14 Republican state lawmakers this week asked the Commonwealth Court to throw out the state's mail-in voting law, arguing that the law should be voided due to a 3rd U.S. Circuit Court of Appeals decision back in May.
Doug Mastriano faces questions about Facebook videos
A report from The Philadelphia Inquirer this week suggested that Republican gubernatorial nominee Doug Mastriano has been deleting videos that reference his views on global warming, when life begins and support for his bid for governor, but Mastriano's campaign quickly fired back saying the videos were deleted due to a default Facebook setting. His campaign accused the Inquirer of publishing "fake news," but reportedly did not respond to the paper's follow-up questions. 
Majority of congressional delegation votes for same-sex marriage protections
The U.S. House of Representatives voted overwhelmingly this week to enshrine protections for same-sex marriage into federal law, a move that comes amid concerns that the U.S. Supreme Court could eventually reconsider a 2015 ruling that required states to recognize same-sex marriages. The vote included bipartisan support from Pennsylvania's congressional delegation, with 12 of the state's 17 House members voting to approve the measure. It currently faces an uncertain future in the Senate as Democrats attempt to whip up enough Republican votes.