News & Politics
'What a difference a year makes:' More than 5,000 attend first Pennsylvania March for Life since Supreme Court ruling
Meanwhile, Democrats introduced legislation Monday seeking to protect and expand abortion access.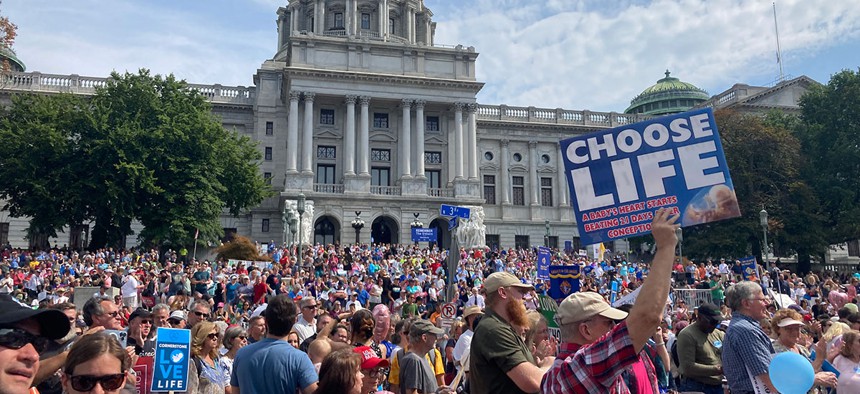 Energized by a U.S. Supreme Court ruling that struck down a decades-long constitutional protection for abortion access, more than 5,000 people on Monday packed the front steps of the Pennsylvania Capitol for the second-ever Pennsylvania March for Life – the first such event since the court's 1973 Roe v. Wade ruling that established a federal right to abortion. 
The fallout from the Supreme Court's June decision loomed heavily over the day's events, with speakers and lawmakers thanking the Court for the new post-Roe landscape, which could open the door for abortion access to be scaled back – or even eliminated – depending on the results of this year's midterm elections for governor and U.S. Senate. 
That reality was not lost among those in attendance. Michael Geer, the president and CEO of the Pennsylvania Family Institute, celebrated the ruling shortly upon taking the stage. "Bask in this wonderful fact: Roe v. Wade has been tossed onto the ash heap of history," Geer said, prompting cheers and applause from the crowd. 
Geer thanked the state's Republican-led General Assembly for advancing legislation that would scale back abortion access, including in instances where the abortion is sought following a pre-natal Down syndrome diagnosis. He also touted a 2017 bill that would have banned abortions after 20 weeks and prohibited the use of so-called "dismemberment" to facilitate an abortion.
Both bills have been vetoed by Democratic Gov. Tom Wolf, a former Planned Parenthood escort who has vowed to veto any bills that place limits on abortion access. 
In a tweet on Monday, Wolf called the March for Life attendees a "loud minority" and reiterated his pledge to veto legislation that reduces abortion access. "Forced-birth advocates are descending on Harrisburg today for the 'March for Life,'" Wolf said. "This is the loud minority. Most Pennsylvanians want their reproductive rights to be protected."
But with the issue of abortion now currently up to the states, anti-abortion actitivists appeared embolded by the Supreme Court decision, especially given that Pennsylvania's next governor – who will be chosen in November – could reshape the state's abortion laws.
Geer said Wolf's vetoes highlight the significance of electing a governor that will sign legislation that restricts abortion access. "Can you see how important it would be to have a pro-life governor?" Geer said. Voters will elect the state's next governor in November, with Democrat Josh Shapiro and Republican Doug Mastriano facing off to determine the state's chief executive for the next four years. 
House Speaker Bryan Cutler, a Republican from Lancaster County, noted, in addition, that the high Court ruling could give lawmakers a new opportunity to decide the future of abortion access. 
"The men, the women on this stage, those in Washington, will likely find ourselves in some of the most important pro-life debates and votes that we have ever had the opportunity to make," Cutler said. "As elected leaders, we hear you loud and clear on the issue: life begins at conception. We owe it to the unborn, the voiceless and the most vulnerable among us to be their voice."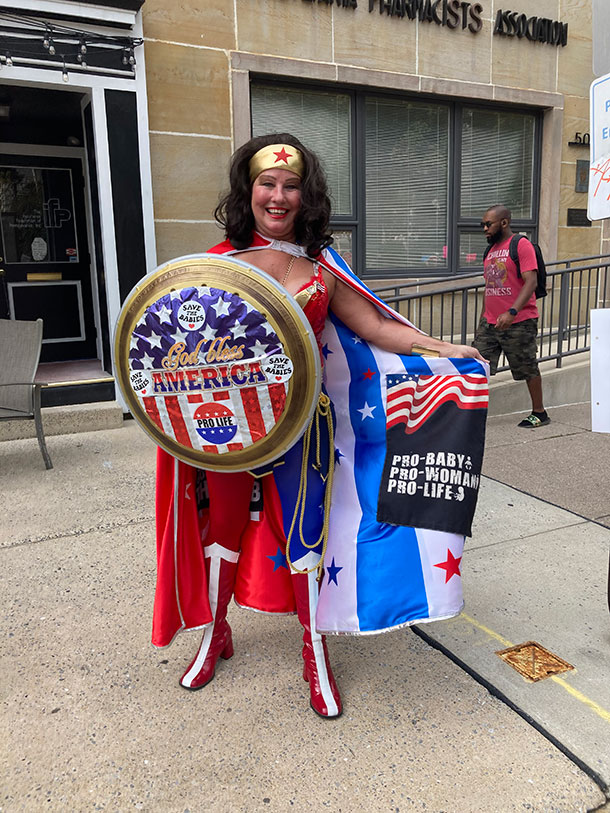 Tammy Milligan, an attendee from Myrtle Beach, South Carolina, traveled to the march donning a "Wonder Woman" costume. She said she has worn the outfit to other events and rallies, and that she opposes the "culture of death," referring to abortion. Milligan said that, in light of the Supreme Court's decision to overturn Roe. v. Wade, she feels optimistic that the country is headed in the right direction in terms of regulating abortion.
This session, state lawmakers have also advanced a proposed amendment to the state constitution that would prohibit the use of taxpayer funding for abortions while also declaring that the state constitution does not provide a right to an abortion. Wolf's administration is suing to try and block the amendment from appearing on the ballot, arguing that it would violate privacy rights enshrined under the law. 
Republicans have pushed back on how Democrats have framed the proposed constitutional amendment in Senate Bill 106, arguing that the measure would not change the state's Abortion Control Act, which allows abortions through the first 24 weeks of a pregnancy. "The misinformation campaign is in full force when it comes to the constitutional amendment here in Pennsylvania," said state Sen. Ryan Aument, a Lancaster County Republican who voted in favor of the amendment in April. 
According to an August poll from Franklin & Marshall College, 37% of Pennsylvania voters believe abortion should be legal under any circumstances, while a majority of voters seem to believe there should be some restrictions on abortion access, with 52% saying they believe abortion should be legal under "certain" circumstances. Of those surveyed, 11% said abortion should be illegal in all circumstances. 
The poll also asked voters about their thoughts on the proposed constitutional amendment. When asked if they support the proposal, 33% of respondents said they did; 54% said they oppose it; and 13% said they weren't sure where they fall. 
Inside the state Capitol on Monday, Democratic lawmakers were focusing on the same issue. State Reps. Elizabeth Fiedler and Emily Kinkead were joined by their Democratic colleagues from across the state to introduce a package of bills aimed at protecting abortion access. 
"While protesters gather outside the Capitol – thousands of them – in a desperate attempt to tear away our rights and the rights of our constituents, we're here today to present a positive vision of the world we want to see," said Fiedler, who added the bill package would "solidify and expand reproductive rights."
The legislation aims to protect those seeking abortions in Pennsylvania from out-of-state prosecution, while also protecting the licenses of abortion providers, according to Kinkead. "We are creating a sanctuary state in Pennsylvania that says you are allowed to come to Pennsylvania and seek abortion care because it is safe and legal here and your state has no jurisdiction here," Kinkead said. "We will not comply and we will not cooperate with these overreaching investigations."
The bill package also seeks to increase the number of abortion providers in the state, and reduce the costs of having an abortion. 
"At the moment, abortion is safe and legal 'til 24 weeks in this commonwealth, but make no mistake, there is an absolute intent to ban abortion in this commonwealth," said state Rep. Liz Hanbidge, a Democrat from Montgomery County. "We will not be tricked. We will not allow our rights to be limited."
While much of Monday's March for Life rally focused on abortion policy debates happening in Harrisburg and beyond, other speakers at the event told stories and reflected on personal experiences to make their point. 
Former GOP U.S. Senate candidate and conservative commentator Kathy Barnette was one of the event's featured speakers, and told the story of how she was a "byproduct of a rape.""Never did anyone look at me and call me a victim. Never did anyone look at me and say: 'Your life does not matter,'" Barnette said. "Do not be ashamed. Lean forward. We have a better story. We are on the right side of history."
Ann McElhinney, a conservative author who wrote the 2017 book, "Gosnell: The Untold Story of America's Most Prolific Serial Killer," detailed the crimes of former Philadelphia abortion provider Kermit Gosnell, who was convicted of three counts of first-degree murder in 2013 for killing babies born alive in his West Philadelphia clinic. 
McElhinney ripped into the Pennsylvania Department of Health, as well as former Gov. Tom Ridge, over the scandal – and suggested that others like Gosnell could exist in other states, defying the law. "If Gosnell can happen in progressive Pennsylvania, Gosnell can happen anywhere."