Campaigns & Elections
Senate lawmakers elect new caucus leaders for 2023-24 session. Here's who they are.
Kim Ward is elected president pro tempore, while Joe Pittman takes over as majority leader.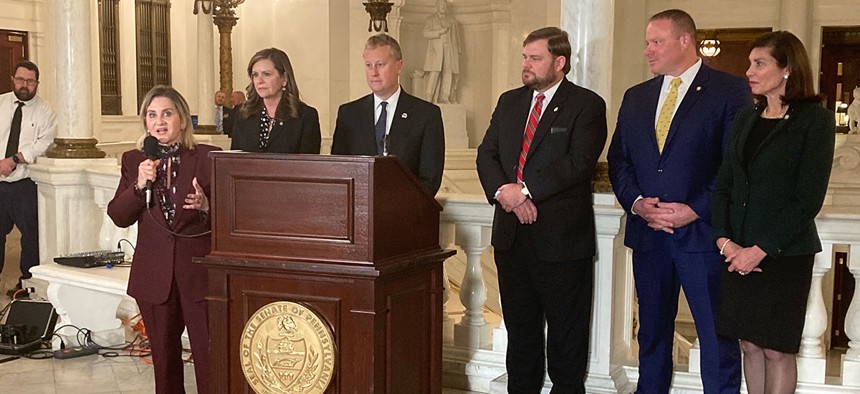 With control of the Pennsylvania House of Representatives hanging in the balance, lawmakers in the state Senate already have an eye toward next year, with Democrats and Republicans in the upper chamber electing new party leaders, making history in the process. 
Senate Republicans elevated GOP leader Kim Ward to the position of president pro tempore, making her the highest-ranking female legislative leader in state history. The caucus also elected Indiana County state Sen. Joe Pittman as majority leader, giving Pittman broad control of the party's legislative agenda in the Senate.
Democrats elected leaders of their own for the 2023-24 legislative session, bringing back Allegheny County state Sen. Jay Costa as minority leader, while choosing Philadelphia state Sen. Christine Tartaglione as minority whip. 
The Senate leadership changes promise to create a new power dynamic in the halls of the state Capitol, particularly with a new governor set to take over in January.
Speaking to Senate colleagues shortly after her election to interim president pro tempore – which will become permanent next year – Ward struck a tone of unity, while reflecting back on the Senate's work over the last two years. She highlighted recent investments in education, a reduction in the state's business tax rate and the establishment of a new election funding program, to name a few. 
"I look forward to working with you to chart a path forward that requires us to selflessly work together, advocating for all Pennsylvanians and their families by putting the principles and respect for this institution and our commonwealth above all else," Ward said.
She also took time to recognize the unprecedented nature of her election and mentioned that the Senate will soon make more history, as Lt. Gov.-elect Austin Davis will soon become the first Black lieutenant governor in state history, as well as the first Black president of the state Senate. "It is a powerful acknowledgement that we can be diverse and unified at the same time," Ward said of the historic feats. 
Ward said Tuesday that the economy will remain front and center in the caucus' list of top priorities, and also expressed a desire to advance voter ID legislation. Legalization of recreational marijuana, she said, is unlikely without action at the federal level. 
Pittman, who is serving his first full term in the Senate after winning a special election in 2019, told reporters later in the day that while control of the state House is still unsettled, Senate Republicans will enter 2023 with a clear mandate. 
"There's been a lot of discussion about electoral mandates, and as the weeks and months go ahead, it's important to be clear that our Senate Republican Caucus, which has had a 42-year elected majority, also has an electoral mandate," Pittman said. "We will exercise that electoral mandate responsibly – we will work across the aisle when necessary to advance issues important in this commonwealth, but we will also defend the principles and beliefs of those who have elected us to serve here in the state Senate."
Despite his status as a newcomer in Senate leadership, Pittman will enter the role with extensive legislative experience, as he was previously chief of staff for former state Sen. Don White of Indiana County.
Lancaster County's elected leaders also saw success in the caucus elections, with state Sens. Ryan Aument and Scott Martin elected as majority whip and chair of the Senate Appropriations Committee, respectively. State Sen. Kristin Phillips-Hill was elected caucus chair, and state Sen. Camera Bartolotta was named caucus secretary.
For Senate Democrats, Philadelphia state Sen. Vince Hughes will remain minority chair of the Senate Appropriations Committee, while state Sen. Tim Kearney, representing Chester and Delaware counties, will serve as vice chair. State Sens. Wayne Fontana and Maria Collett will serve as caucus chair and caucus secretary, respectively, while state Sen. Judy Schwank was elected caucus administrator.
There's been a lot of discussion about electoral mandates, and as the weeks and months go ahead, it's important to be clear that our Senate Republican Caucus, which has had a 42-year elected majority, also has an electoral mandate.
– State Sen. Joe Pittman
House Democrats also announced their legislative leaders for the new term, though the leadership slate could change if the caucus wins a majority. At press time Tuesday, a key race in the 151st House District that could determine control of the chamber had yet to be called. 
Still, Democrats reelected state Rep. Joanna McClinton as caucus leader, while also reelecting House Democratic Whip Jordan Harris and House Appropriations Democratic Chair Matt Bradford. House Republicans have yet to elect new leaders for the 2023-24 legislative session.
In a joint statement, Democratic leaders in the House said their electoral gains in the chamber demonstrate that voters want change in Harrisburg, pushing back on claims of a GOP mandate. 
"Pennsylvanians showed that they are tired of business as usual in Harrisburg," the leaders said. "After having made one of the greatest gains in legislative seats in the past 50 years, we intend to exercise our heightened influence in every committee and on every bill."