News & Politics
Mark Rozzi forms work group as special session stalls in Harrisburg
Special session days were canceled for the week with lawmakers at an impasse.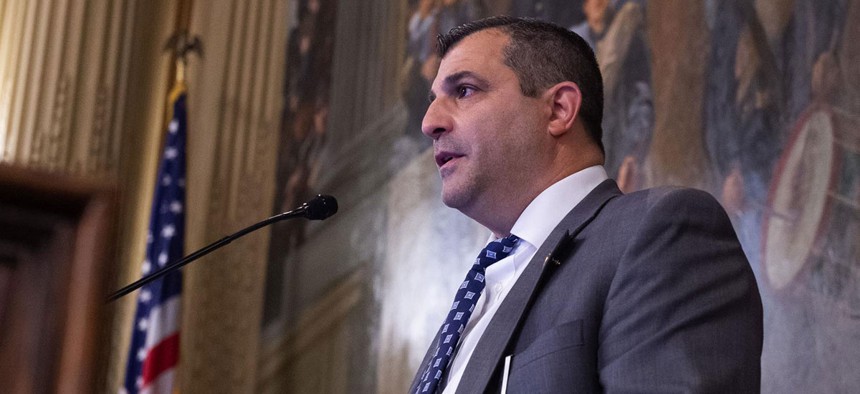 A special legislative session of the Pennsylvania General Assembly that was designed to deliver a long-sought win to survivors of childhood sexual abuse has stalled in its first week, prompting House Speaker Mark Rozzi to form a bipartisan panel in an attempt to break through the gridlock that has hampered the passage of a constitutional amendment championed by the new speaker.
The formation of the work group followed an eventful day in the Capitol on Monday, in which House lawmakers failed to agree on a rules package and Rozzi's closest GOP ally turned on him. On the other side of the building, Republican-led state Senate committees advanced a slate of their own constitutional amendments, including universal voter ID and post-election audit requirements.
The lack of action on the statute of limitations amendment, which all four legislative caucuses agreed to pass at the beginning of this year, prompted Rozzi to cancel two remaining session days that were scheduled for this week. The ongoing impasse has sparked frustration on both sides of the aisle in Harrisburg. 
Meanwhile, Rozzi has refused to consider any other legislation in the House until state lawmakers approve the amendment. The measure would create a retroactive two-year window for child sex abuse survivors to file civil lawsuits against their abusers – and would apply to victims for whom the original statute of limitations has expired. 
The initiative has been a major priority for Rozzi, who was elected speaker in a surprise vote last week. He was nominated for the post by Republican state Rep. Jim Gregory of Blair County, who has worked alongside him in recent years to advocate for passage of the statute of limitations reform. Both are victims of childhood sex abuse. 
I'm asking Republican and Democratic leaders in the General Assembly to complete this vital work. Answer the call you signed up for as elected officials and public servants. Pennsylvania is waiting.
– Gov. Tom Wolf
Still, Republicans in the Senate advanced three constitutional amendments on Monday during regular session. The amendments, if ultimately adopted by voters, would require voters to show ID at the polls, mandate post-election audits conducted by the state's auditor general and give state lawmakers more power to disapprove of regulations implemented by the governor. 
Rozzi was elected speaker with 115 votes on Tuesday, Jan. 3, after Gregory and Republican leaders floated a last-minute plan to nominate Rozzi. Following the election, Rozzi said he would become an Independent and wouldn't be caucusing with either party. 
This week, however, Rozzi's intentions were called into question by Gregory, who wrote in a Jan. 9 letter that Rozzi should resign from the speaker's office, indicating that Rozzi said over the weekend that he was "only thinking about switching" parties.  
"Those words directly contradicted your previous three affirmative answers to me of 'yes' that you were going to switch to Independent. You made a commitment to uphold your promise to me, to members of this body, and to the people of Pennsylvania," Gregory wrote. "The bonds of trust between friends – as close as you and I have been – are now broken."
Rozzi did not address Gregory's letter in a video statement released Monday night. Instead, he commented on the lack of action in the state House and announced the creation of a six-member work group to "find a way forward." Rozzi has not yet named any members to the group.
"Make no mistake – we must pass a statute of limitations reform," Rozzi said. "But we also must fix the workings of our government and find a way to move forward as Pennsylvanians for the betterment of Pennsylvania."
House Republicans said Monday evening that they finished caucusing at around 2:30 p.m. and were ready to debate a rules package. Cutler told reporters that the House GOP's rules proposal is more transparent than previous interactions of House rules and would make improvements to the discharge resolution process.
However, House session was recessed later in the evening, and session days scheduled for Tuesday and Wednesday were canceled. Republican lawmakers then staged a photo op on the House floor, accusing Democrats of obstructing House business. 
A spokesperson for House Democrats didn't have an update on the status of rules negotiations between the two caucuses on Tuesday, but said "House GOP lawmakers declined to meet with our caucus to try to work things out" on Monday. Still, the caucus said it will "work alongside our Republican counterparts on Speaker Rozzi's work group to bridge our divides to ensure justice for survivors of childhood sexual abuse."
The stalemate over rules could, by extension, imperil whether the statute of limitations constitutional amendment is approved in time to be placed on the ballot for a referendum in May. 
The ongoing dispute prompted term-limited Gov. Tom Wolf to call on lawmakers to "stop the games, put everything else aside, and work together."
"Last fall, we promised action to get this done," Wolf said in a statement released Tuesday morning. "I'm asking Republican and Democratic leaders in the General Assembly to complete this vital work. Answer the call you signed up for as elected officials and public servants. Pennsylvania is waiting."
The amendment already faced a setback due to an error at the Department of State that halted the amendment's progress in 2021 – and Rozzi is hoping that the formation of a bipartisan work group will help to avoid another setback on his signature legislation this time around.