Capitol Beat
State Senate postpones Larry Krasner's impeachment trial indefinitely
The trial, originally set to begin Jan. 18, is up in the air following a Commonwealth Court ruling.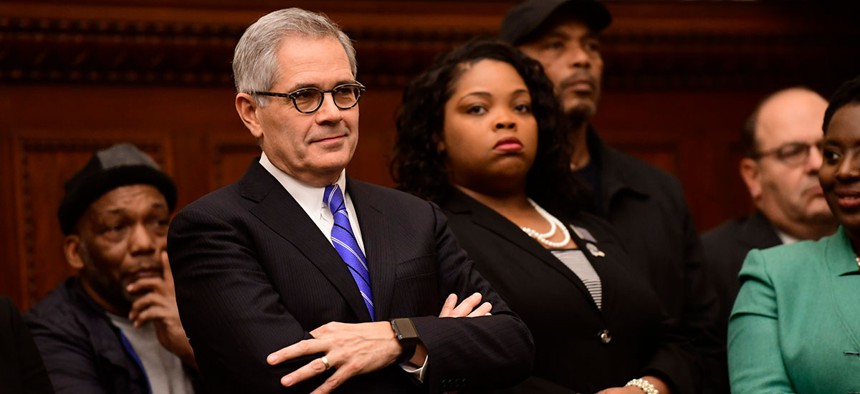 Amid Harrisburg lawmakers' struggles to come to an agreement on how to provide relief to adult survivors of childhood sexual abuse, the state Senate accomplished one thing: kicking Philadelphia District Attorney Larry Krasner's impeachment trial down the road. 
State senators voted Wednesday morning to delay the impeachment proceedings indefinitely. The trial, originally set to begin Jan. 18, won't take place until the Senate or chair of the impeachment committee take action. 
Lawmakers voted 28-20 to readopt the rules for the impeachment and swore an oath to uphold the state constitution while serving as jurors during an eventual impeachment trial. The articles of impeachment specifically allege Krasner's "misbehavior in office" and his obstruction of the legislative investigation into his office warrant his removal from office.
House lawmakers voted in November to impeach Krasner last year amid efforts by Republicans to pin Philadelphia's rising gun violence and crime rates on him. Krasner challenged the impeachment efforts in Commonwealth Court and has continually called the process politically motivated. 
Last month, the Commonwealth Court ruled that the articles of impeachment failed to meet the legal standard of "misbehavior in office," but the ruling fell short of saying the proceedings should stop. 
During what would be the first proceeding of its kind in three decades, impeachment managers Republican state Reps. Craig Williams and Tim Bonner and Democratic state Rep. Jared Solomon and their attorneys will present their cases, along with Krasner and his attorneys, who are also permitted to present a case. A two-thirds vote on any of the seven articles of impeachment filed against Krasner would be needed to convict and remove him. 
As the court weighs the separation of powers and how they relate to the legislature and courts, the Senate is in wait-and-see mode for the near future.