News & Politics
Democrats sweep special elections to take majority in state House
House session days were scheduled immediately after the elections were called.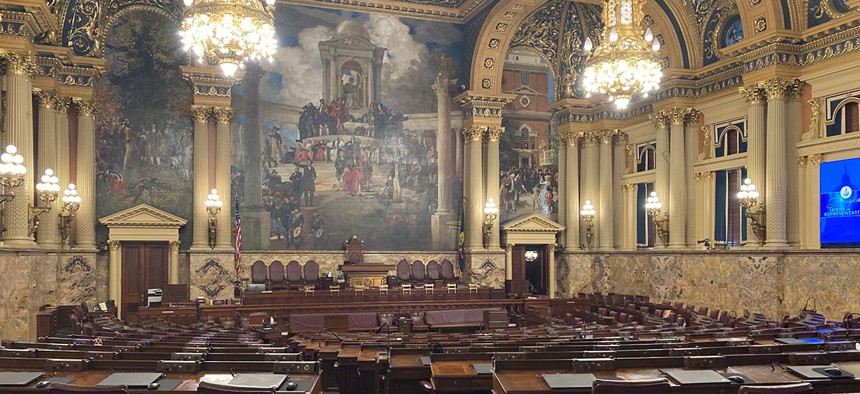 Democrats won three special elections Tuesday night to cement their narrow majority in the state House, a development that could bring the ongoing impasse over control of the chamber to an end. 
"These victories will ensure our Democratic majority in the Pennsylvania state House is safe and enable us to continue to protect a woman's right to choose, ensure the right to vote and create a Pennsylvania with opportunities for all," Pennsylvania Democratic Party Chair Sharif Street said following the elections. 
Democratic candidates won elections for open seats in the 32nd, 34th and 35th state House districts after two of the seats were vacated last year and another opened following the death of an incumbent lawmaker. 
Joe McAndrew defeated Republican Clayton Walker to represent the 32nd House District in Harrisburg – a seat most recently held by former state Rep. Tony DeLuca, who died while still in office last October. Abigail Salisbury defeated GOP candidate Robert Pagane with over 87% of the vote to win the 34th House District seat – a seat that was vacated by Summer Lee, who was sworn in as a member of Congress earlier this year. 
Matt Gergely won the third seat in House District 35, replacing former state Rep. Austin Davis, who resigned the seat to become lieutenant governor.
Democrats were largely expected to hold the seats, given that they won all three districts in last year's elections. 
That gives Democrats a 102-100 advantage in the state House when including House Speaker Mark Rozzi, who pledged to lead the chamber as an independent when he was elected speaker, but has yet to change his party affiliation. 
It's unclear if Rozzi will remain speaker now that the special elections have concluded. 
Rozzi has made advancing a constitutional amendment that gives child sex abuse victims a chance to file civil suits against their abusers a chief priority as speaker; however, the chamber has been unable to agree on operating rules, as well as on how to advance the amendment. That prompted Rozzi to embark on a "listening tour" to hear from Pennsylvanians on how to break the gridlock. 
Lawmakers in the House have yet to pass operating rules or vote on legislation this year. 
The chief clerk of the House, Brooke Wheeler, announced Tuesday night that House session days have been scheduled through the end of June, when the state budget is due. Now lawmakers are set to convene for their next session day on Feb. 21.