News & Politics
Mark Rozzi says House will vote on rules, reforms on Feb. 21
Gridlock has prevented the chamber from approving rules and holding votes.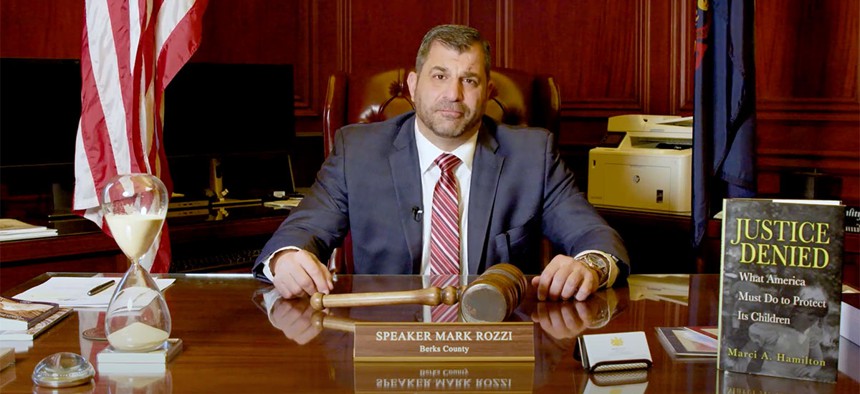 State House Speaker Mark Rozzi said Thursday that the chamber will reconvene on Tuesday, Feb. 21 to vote on operating rules and a stalled proposal to give child sex abuse victims a legal window to sue their abusers – a move that could end more than a month of gridlock in the chamber. 
House lawmakers have been unable to agree on operating rules since Rozzi was elected speaker on Jan. 3 – the result of a last-minute deal that thrust Rozzi to the forefront of the closely divided chamber. 
In a video message posted to Twitter, Rozzi said when the House reconvenes later this month, he will hold a vote on the chamber's operating rules, as well as two separate votes on a proposal that would give child sex abuse victims a two-year period to file retroactive civil lawsuits against their abusers. 
Rozzi, a child sex abuse victim himself, has made establishing the two-year window his key priority in the legislature. 
"I will keep my promise to survivors of childhood sexual assault and bring up a constitutional amendment and a statutory bill, both of which will provide a window to justice and desperately needed relief to victims," Rozzi said. 
The Republican-majority state Senate approved a package of three constitutional amendments last month, including a measure to create universal voter ID requirements during elections. Rozzi, however, pledged not to consider any other legislation before the statute of limitations reform has passed. 
In the video, Rozzi urged the state Senate to pass both pieces of legislation when they return to session on Feb. 27. He has also clashed with Republicans in his own chamber, where they have accused him of going back on his word to become an independent. 
Rozzi's full remarks can be seen below.