Policy
Anti-gun violence advocates call for changes to state gun laws
Democrats say they want to use their new power to 'stop the carnage.'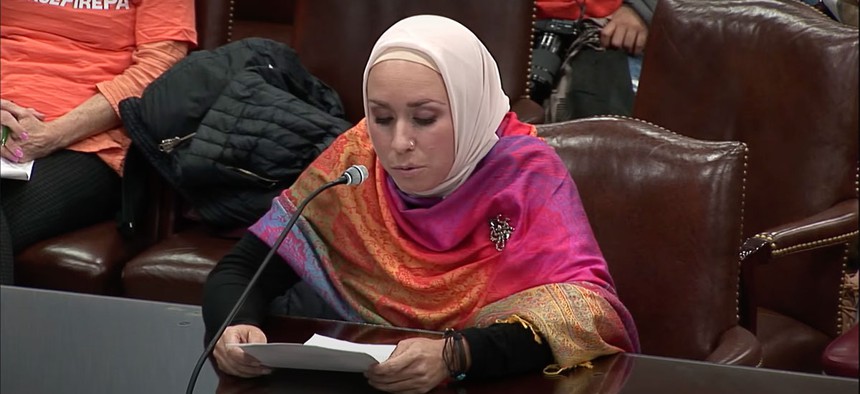 Anti-gun-violence advocates traveled to the Pennsylvania Capitol on Thursday and called on lawmakers to reform Pennsylvania's gun laws – with hopes that a new Democratic majority will advance bills to tighten the state's gun laws that have failed to advance in past legislative sessions. 
At a hearing hosted by the Pennsylvania House Judiciary Committee, community leaders and family members impacted by gun violence pleaded with lawmakers to take action to prevent shootings that have plagued communities across the commonwealth, from Aliquippa to Philadelphia. 
Democrats on the committee acknowledged their newfound majority and said the power shift in the state House will give them an opportunity to advance reforms that stalled when Republicans controlled the chamber. 
"The legislature has stood by and watched death after death, shooting after shooting, with no action," said Democratic state Rep. Tim Briggs, the committee's new majority chairman. "Today, that changes and we begin the process to do something to stop the carnage."
The hearing included testimony from a medical professional, multiple law enforcement officials and those with firsthand experiences with gun violence. 
Meredith Elizalde, whose 14-year-old son Nicolas Elizalde was killed last September during a quintuple shooting outside of Roxborough High School in Philadelphia, made an emotional appeal to lawmakers, saying she felt like government officials have done little to respond to gun violence.
"My son was taken in a most violent manner for absolutely no reason, and to add insult to injury, it feels as if our government turns a blind eye to this epidemic – which can absolutely be eliminated," Elizalde said. "You simply cannot imagine what it's like to witness your child's murder, to hold him as he dies and to be utterly powerless." 
Many of those testifying urged lawmakers to act on a slate of proposals that Democrats have proposed in prior years, like requiring guns to be stored or locked, mandating that lost or stolen guns be reported to law enforcement quickly, implementing universal background checks and cracking down on straw purchases – when one person buys a firearm on behalf of someone else – according to Giffords, a gun violence prevention organization.  
In 2019, the then-Republican-led committee approved legislation that would set mandatory minimum sentences for gun crimes and prohibit some people from buying guns. Republican state Rep. Rob Kauffman, who was majority chair of the committee at that time, said the panel would not consider red-flag legislation, which would allow guns to be temporarily confiscated from people deemed to be a threat to themselves or others. 
Now in the minority, Kauffman said Thursday that he didn't think mandatory reporting laws are necessary for law-abiding gun owners. "The folks that I'm around are responsible gun owners, and if they find their gun is gone, they're reporting it," he said. 
He also expressed concerns with the idea of so-called "safe storage" laws, particularly when crimes are committed by people who have illegally purchased firearms. 
"I do wonder where any legislation could have made a difference for someone who's already taking a criminal act," Kauffman said. He also stressed that lawmakers need to be careful with how they regulate gun ownership, citing protections in the Pennsylvania and U.S. constitutions. 
"I heard folks today talk about cars and driver's licenses as a right. The reality is, you cannot equate a driver's license or a vehicle registration to a constitutional right that is in our U.S. Constitution and that is also in the Pennsylvania Constitution," he said. "I know it's hard for folks with serious tragedies to relate to that, but many of us – that's where our minds are – is that you cannot affiliate a driver's license and gun ownership because one is a constitutional right and one is not."
According to Everytown For Gun Safety, another gun violence prevention organization, the rate of gun deaths in Pennsylvania has risen by 32% from 2012 to 2021. Gun suicides and gun homicides both rose during that same period by 20% and 56%, respectively. 
For Elizalde, even one life should be enough to spur changes to state law. "The Second Amendment does not trump the right to live," she said in closing.