Policy
In Senate testimony, Norfolk Southern's Alan Shaw promises he will 'make this right'
Shaw explained the chain of events that day as lawmakers pushed for details that led to the train derailment.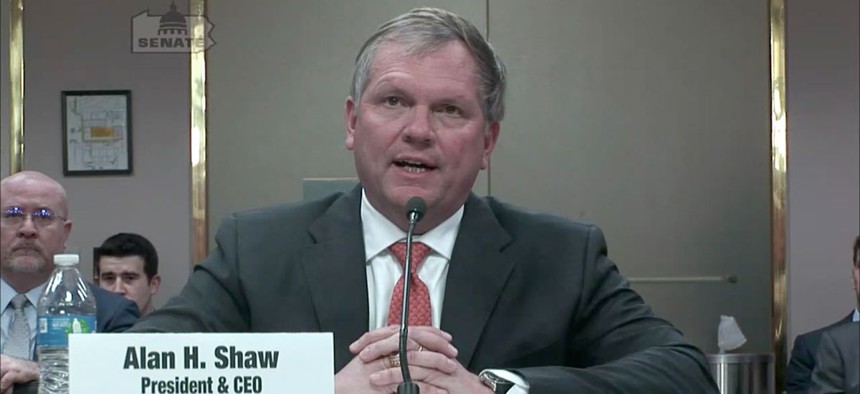 Alan Shaw, the president and CEO of Norfolk Southern Corporation, met publicly with state lawmakers on Monday for the first time since a train derailed near the Pennsylvania-Ohio border and sought to reassure the public that the company is committed to assisting local communities impacted by the crash. 
Shaw spoke to lawmakers on the Senate Veterans Affairs & Emergency Preparedness Committee, which subpoenaed him earlier this month for testimony and information related to the Feb. 3 train derailment in East Palestine, Ohio. 
The train crash and subsequent release of toxic chemicals into the air have raised concerns about the long-term health and safety of those living near the derailment. In the weeks following the incident, lawmakers at both the state and federal levels have stepped up their scrutiny of Norfolk Southern; Monday's hearing marked the first time Shaw offered official testimony to state lawmakers in Harrisburg. 
Among the hearing's most noteworthy moments:
Shaw promises to make things right
Shaw started off his portion of the hearing by issuing an apology to the residents of East Palestine and those living in nearby communities. 
"I am determined to make this right," he told lawmakers. "Norfolk Southern continues to make good on its promise to clean the site safely, thoroughly and with urgency. You have my personal commitment. We will get the job done and we will help these communities thrive."
He also highlighted the company's ongoing cleanup efforts, adding that Norfolk Southern has committed more than $7.5 million in assistance to affected communities in Pennsylvania. That includes $5 million to reimburse costs incurred by local fire departments, $1.3 million for state agencies and the creation of a $1 million "Community Relief Fund" to provide money to businesses that have been impacted. 
I am determined to make this right.
– Norfolk Southern President and CEO Alan Shaw
Shaw said the company has also helped Pennsylvanians at its Norfolk Southern Family Assistance Center in New Waterford, Ohio. The Shapiro administration also set up a resource center in Darlington Township, Beaver County, and announced Monday they will keep a "long-term, physical presence" in the township to assist state residents. 
"The events of the last several weeks are not who we are as a company," he said. "We will continue to invest in the future of Pennsylvania just as we've always done. Norfolk Southern is here for the long haul."
Lawmakers push for details on chain of command, health ramifications
Multiple branches of state government have expressed dissatisfaction with how Norfolk Southern handled the on-site response on the day of the derailment.
In a letter to Shaw on Feb. 14, Gov. Josh Shapiro wrote that the company "failed to implement Unified Command," adding that "Norfolk Southern personnel separated themselves from the rest of the incident management structure at the Incident Command Post to conduct separate operation and tactical planning."
State Sen. Doug Mastriano, the chair of the committee, asked Shaw who gave the final approval for the venting and burning of vinyl chloride gas, which has been linked to liver damage, an increased risk of cancer and other health issues. 
Shaw said the incident commander – East Palestine Fire Chief Keith Drabick – had the final say on whether to approve the burn of vinyl chloride gas, in conjunction with Ohio Gov. Mike DeWine.
Both Mastriano and the Democratic chair of the committee, state Sen. Katie Muth, asked Norfolk Southern to provide the committee with more information about which agencies and law enforcement officials were involved in response efforts. 
"I find it hard to believe that the local fire chief would be the one making the decision to set an explosion off to ignite eight carloads' worth of toxic chemicals," Mastriano said. 
"Who are these people?" Muth asked, referring to other officials involved in the venting of the vinyl chloride gas. "I'm hoping to God there's someone with a lot of knowledge in all these things."
Early on in his testimony, Shaw said that because of the short duration of exposure to the vented chemicals, "health effects from long-term exposure are not expected to occur." He added that based on air and water testing conducted to date by state and federal agencies, the vent and burn worked. 
"The air testing throughout the process … notes that the air is clean. The water testing notes that the water is safe," Shaw said. "We avoided a potential for a catastrophic, uncontrolled explosion that would have potentially shot harmful gas and shrapnel throughout the community."
Muth, however, was skeptical. She said that based on symptoms reported by Pennsylvania residents not far from the derailment site, she's not convinced that the vent and burn of vinyl chloride can be deemed a success. "I don't know how anyone can say that it worked or that no harm was done," Muth said. 
Shaw says he supports some enhanced safety measures, remains quiet on others
Lawmakers in the General Assembly and Congress have introduced new legislation aimed at improving rail safety in the weeks after the East Palestine derailment. 
Shaw was asked about his support for the federal "Railway Safety Act" – sponsored by U.S. senators from Ohio and Pennsylvania. The proposal would set new safety requirements for trains carrying hazardous materials, including the potential for new length and weight requirements. It would also increase the frequency of rail car inspections for cars with hazardous contents and establish new requirements to lower the risk of wheel bearing failures. 
Thank you for your commitment. We're going to hold you to it.
– State Sen. Doug Mastriano
"I certainly appreciate the leadership of the senators who have advanced that act," Shaw said. "There are a number of provisions within that act that we certainly support. That includes enhanced tanker standards, that includes enhanced funding and research and design for wayside detectors, that includes enhanced notification for first responders."
When asked about restrictions on train length, Shaw said that, to date, the National Transportation Safety Board "did not indicate that train length had anything to do with the derailment in East Palestine."
Mastriano hinted Monday that the committee could ask Shaw to return again for more testimony, and said the panel will continue keeping a watchful eye on Norfolk Southern. 
"Thank you for your commitment. We're going to hold you to it," Mastriano said.