News & Politics
Innamorato resigns, bringing state House back to 101-101 tie
Innamorato resigned as she continues to campaign for Allegheny County executive.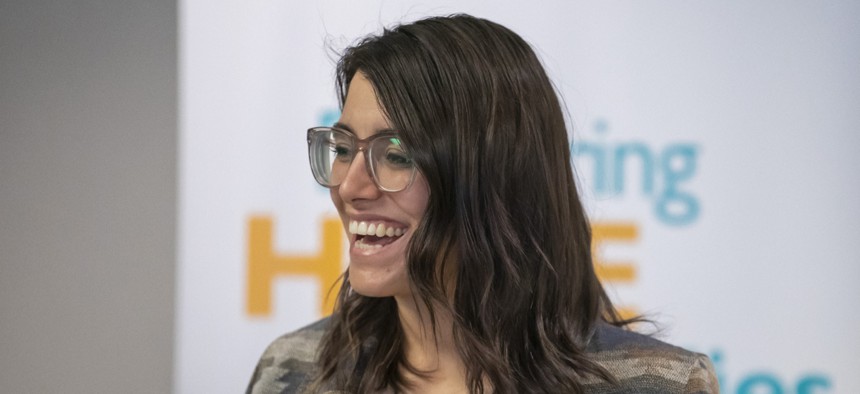 Democrat Sara Innamorato resigned from the Pennsylvania House of Representatives on Wednesday morning to focus on the race for Allegheny County executive, a move that will bring the state House back to a 101-101 tie for the next two months. 
A spokesperson for House Speaker Joanna McClinton said Innamorato tendered her resignation in the morning, prompting McClinton to schedule a special election to fill the 21st House District seat on Tuesday, Sept. 19. 
"Sara is an unwavering advocate for her neighbors and a strong voice for all working families," McClinton, a Democrat, said in a statement. "Her tenacity and commitment are admirable, and she will be missed in the Pennsylvania House of Representatives."
Under the current House operating rules, if a vacancy occurs during the term, "the political party that won that seat at the last election shall remain the party that won that seat until any subsequent special election is held to fill that seat."
Jason Gottesman, a spokesperson for the House Republican Caucus, said the timing of Innamorato's resignation is an "example of House Democrats continuing to force out their own members, gerrymander the membership of the House, and deprive voters of a voice in the legislative process merely for their own power."
"Forcing Rep. Innamorato to resign now has no other purpose than to avoid being in the numeric minority and maintaining the delusion of the House Democratic Caucus's unilateral authority over the House," Gottesman added. 
In May, Innamorato won the Democratic nomination for Allegheny County executive, securing 64,000 votes in the process. Allegheny County Treasurer John Weinstein finished second in the primary with nearly 51,000 votes and Pittsburgh City Controller Michael Lamb came in third with around 34,000 votes. 
Innamorato's departure leaves Democrats and Republicans with 101 seats each in the state House. 
The 21st House District seat has been held by a Democrat dating back to at least 1969, according to the state House Archives. Innamorato won the seat in the 2018 general election after defeating then-state Rep. Dom Costa in the Democratic primary. 
She won her most recent state House election with 63% of the vote, defeating Republican challenger Frank Perman by more than 8,600 votes. 
Lawmakers recessed for the summer earlier this month after advancing a $45.5 billion spending plan – but without finalizing a full state budget. They still need to pass budget-enabling legislation, as well as funding legislation for the commonwealth's state-related universities: Pennsylvania State University, the University of Pittsburgh, Temple University and Lincoln University. 
With the fiscal year having started on July 1, the state has gone nearly three weeks without a budget in place for the 2023-24 fiscal year. 
Both chambers of the legislature are set to reconvene in September.