Capitol Beat
Senate lawmakers will return this month to continue work on state budget
A GOP spokesperson said the chamber will return on Aug. 30.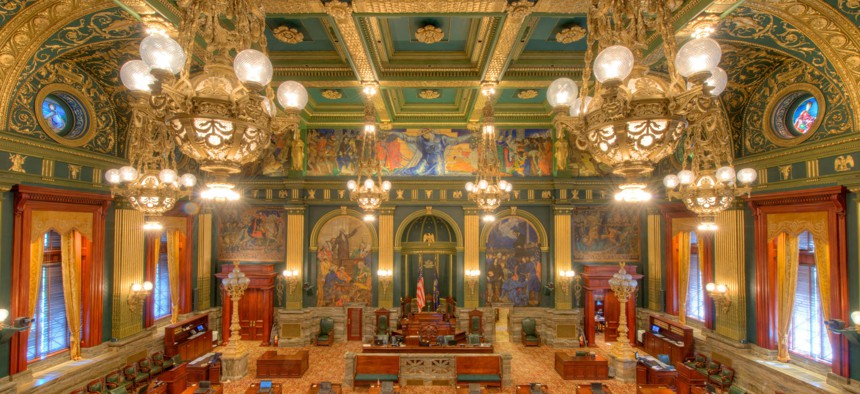 Senate lawmakers in Harrisburg will return to the state Capitol this month to finalize the last-remaining pieces of the state budget, a Senate Republican spokesperson said Monday. 
"Our work to complete the necessary budgetary implementation legislation continues at this time," said Kate Eckhart Flessner, a spokesperson for the Senate Republican Caucus. Flessner added that the Senate will reconvene on Wednesday, Aug. 30, 2023 at 1 p.m. to finalize the 2023-24 state budget.
"We are in communication with House leaders, and we remain hopeful the House will also choose to reconvene before Sept. 26."
Senate lawmakers sent a $45.5 billion spending plan to Gov. Josh Shapiro's desk on Aug. 3 after a monthlong budget impasse that resulted from disagreement over a $100 million private school voucher program. 
Still, even with the main budget bill signed, several components of the state budget remain unfinished, as lawmakers need to approve legislative language to authorize multiple state programs – including new funding for indigent defense, teacher stipends and the Whole Home Repairs program, among others. 
Writing to House Democratic Leader Matt Bradford in July, Senate Majority Leader Joe Pittman said that multiple "other pieces of legislation must be enacted to fully effectuate a budget for the 2023-24 fiscal year."
The state House is currently composed of 101 Democrats and 101 Republicans following the resignation of Sara Innamorato – a former state representative who is Allegheny County's Democratic nominee for county executive. The House isn't slated to reconvene for session until Tuesday, Sept. 26, a week after the special election to fill the vacant 21st House District seat formerly held by Innamorato. 
Beth Rementer, a spokesperson for the House Democratic Caucus, confirmed that caucus leaders have been in touch with Senate Republicans about budget legislation. She added that discussions have been centered around a fiscal code bill.
"Discussions continue with Senate Republicans and the administration on a fiscal code," Rementer said in an email. "The House plans to return to session on Tuesday, Sept. 26, but we are not foreclosing on the possibility that we may return sooner if an agreement is reached."