Campaigns & Elections
Five for Friday: Summer Storylines
Revisiting the most significant storylines from the summer season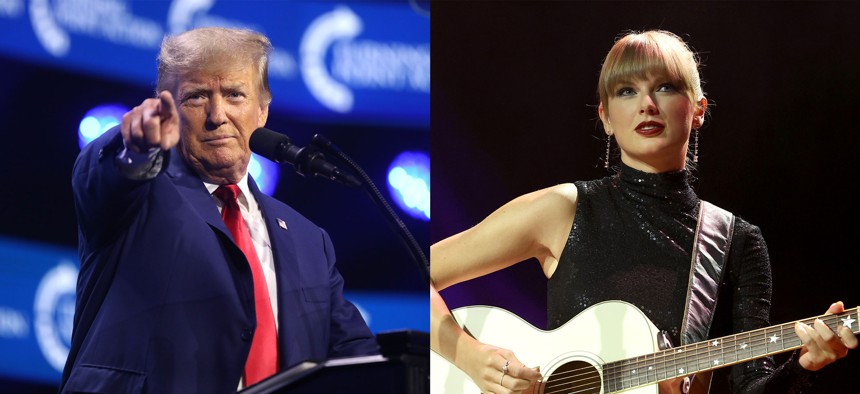 As the days of summer shorten and our attention turns to autumn, we can't help but reminisce about the past few months, which have been a whirlwind of collapses and clashes, debates and decisions, and once-in-a-lifetime performances. 
To jog your memory, City & State has your Five for Friday, revisiting the most significant storylines of the summer season:
Concerts cash in
Thanks to a spate of blockbuster summer shows, the state's economy may just be in its renaissance era. After Taylor Swift's Keystone State tour dates in Philadelphia and Pittsburgh, both cities saw a noticeable economic boost. The Federal Reserve Bank of Philadelphia pointed out that May was the city's strongest month for hotel revenue since before the COVID-19 pandemic, "in large part due to an influx of guests for the Taylor Swift concerts in the city." Out west, Pittsburgh also experienced the economic power of Taylor and her Swifties, with VisitPittsburgh estimating that Swift's June concerts in the city generated $46 million in direct spending. Beyoncé also had a noticeable economic impact in Philadelphia, according to Yelp data, though Pittsburgh wasn't as lucky with Queen Bey, as the singer canceled a summer stop planned for the Steel City.
What to watch: Pennsylvania could miss out on an additional concert-related revenue boost now that Bruce Springsteen, citing an illness, has canceled his September tour dates, including two shows that were planned for Pittsburgh. 
I-95 Rebuild
The collapse of a portion of Interstate 95 in Philadelphia threatened to disrupt travel on one of the busiest highways in the U.S., but collaborative and innovative approaches between the public and private sectors got temporary lanes built in just 12 days. Gov. Josh Shapiro's administration provided regular updates and set up a livestream so the public could watch rebuild efforts in real time. The state also recruited the help of a NASCAR raceway and partnered with influencers to help further the rebuilding efforts, and the crisis is viewed as one of the first big tests Shapiro has had to face during his first term.
What to watch: It's worth monitoring whether any of the innovative solutions used to build temporary lanes could quicken the pace of the construction for the 12-acre park planned to be built over I-95 at Penn's Landing.
Moms for Liberty meets Philly
The self-described parental rights group Moms for Liberty – designated by the Southern Poverty Law Center as an extremist antigovernmental group – brought out plenty of parental rights proponents, presidential candidates and protesters at its national convention, held just blocks away from the birthplace of liberty in the City of Philadelphia. The convention featured speeches from the likes of Nikki Haley, Ron DeSantis and Donald Trump, all of whom called out the "woke agenda" they believe is infiltrating public schools. 
What to watch: Florida Gov. Ron DeSantis appointed Tina Descovich, a co-founder of Moms For Liberty, to the nine-member Florida Commission on Ethics, which investigates alleged breaches of trust among public officials, according to The Associated Press.
Trump's indictments
The former president's second, third and fourth indictments dropped this summer following his first indictment in March. The subsequent cases – federal charges related to holding onto classified documents and efforts to overturn the 2020 election and charges in Atlanta for efforts to overturn the state's electoral votes in 2020 – have unfolded in the last couple of months and ultimately led to Donald Trump's mugshot being released. Despite the charges, Trump's third presidential bid is also underway.
What to watch: Those indictments aren't the only ongoing source of legal jeopardy for Trump: Per CNN, a federal judge found this week that Trump is liable for making defamatory statements against E. Jean Carroll, adding additional legal pressure onto the former president. The trial for this case is set for Jan. 15, 2024.
Budget saga
The commonwealth's budget is still incomplete despite the June 30 budget deadline having come and gone. Lawmakers and the governor were unable to finalize the budget by the start of the fiscal year after talks broke down due to disagreements over the inclusion of a $100 million private school scholarship program. The standoff eventually cooled, allowing lawmakers to send Shapiro a $45 billion spending bill, but several pieces of budget legislation still need to be approved, meaning this storyline isn't quite over yet. 
What to watch: One effect of the state's protracted budget standoff is that court surcharges for divorces, zoning appeals, adoptions, mortgages and lawsuits – which help fund court operations – have expired, meaning that the cost to file many documents is courting the courts millions in lost revenue, the Pittsburgh Tribune-Review reported. Lawmakers will need to reauthorize the fees.