News & Politics
Sharif Street reflects on Democrats' general election wins
The chair of the Pennsylvania Democratic Party believes voters had a heightened awareness of the role of state courts.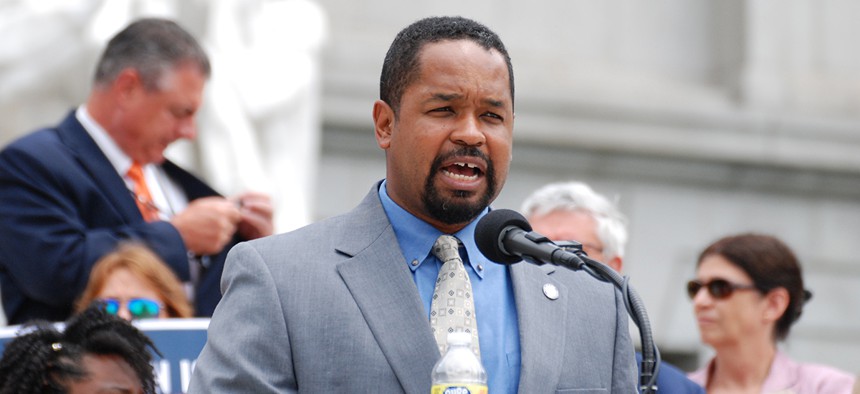 In the wake of victories across the state that saw Democrats capture all four available statewide appellate court seats, win executive races in Philadelphia and Allegheny County, and sweep several school board races, the chair of the Pennsylvania Democratic Party believes there are several lessons to take away from the Nov. 7 general election results. Speaking to City & State, Pennsylvania Democratic Party Chair Sharif Street credited the party's victories in part to strong organizing efforts, noting that the party deployed roughly 60 organizers, more than 1,000 volunteers and knocked on at least 300,000 doors ahead of Election Day. 
"We had a really strong organizing group and we were engaged and involved. I think while we had good fundraising, in terms of leveraging resources, we put that in the streets in grassroots organizing – and I think that made a huge impact," Street said.  
Democrats swept elections for statewide appellate courts this week, with Dan McCaffery winning the race for one seat on the Pennsylvania Supreme Court, Jill Beck and Timika Lane beating GOP candidates for two seats on the state Superior Court and Democrat Matt Wolf besting Republican Megan Martin for a seat on the Commonwealth Court. Street said it's possible that voters are becoming more aware of the significance of state courts following high-profile decisions from the U.S. Supreme Court on issues like abortion rights and affirmative action. 
"I think that people recognize the value and the importance of state courts in a way that people always knew but didn't focus on, because there was this idea that you can always rely on the U.S. Supreme Court and federal courts in ways that now people don't take for granted," he said. 
In light of a bomb threat at a Delaware County polling place and a clerical error affecting voting machines in Northampton County, Street warned people not to focus too much on occasional irregularities. "Sometimes, by focusing on the irregularities, we can create a false narrative that there are these massive problems," he said. 
"In any system, we can always do better," Street continued. "I think county commissioners have a difficult job and do a really good job at it. They're professionals that really care about making sure Pennsylvanians can vote."
As for what voters can glean from this month's elections heading into a presidential contest in 2024, Street said that his main takeaways were that "Grassroots organizing matters. And two: People care about their fundamental rights and want them protected."