Technology
A Q&A with PA Secretary of State Al Schmidt
The commonwealth's chief elections officer discusses AI and its impact on election operations, among other concerns.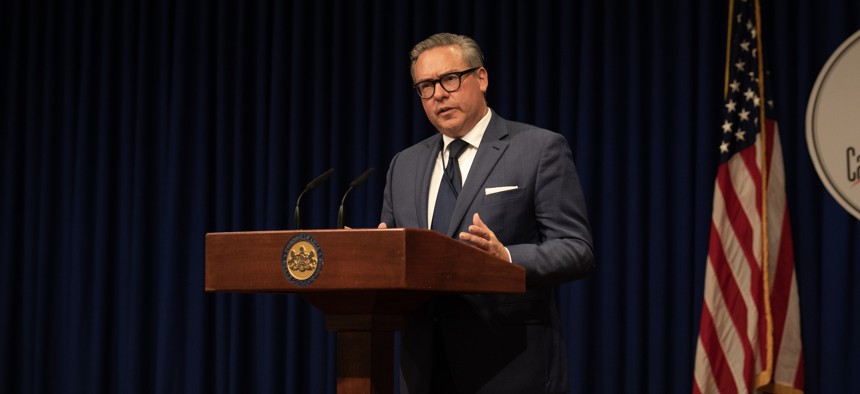 Few people in Pennsylvania have more first-hand experience with the kind of damage that can be wrought by misinformation – and even fewer are in a position to do more about it – than Al Schmidt. In 2020, when he was a Philadelphia city commissioner, Schmidt and his family were subjected to harassment and threats from people taken in by former President Donald Trump's false claims about voter fraud in Philadelphia.
Today, Schmidt, a Republican, is serving as the Pennsylvania secretary of state in Democratic Gov. Josh Shapiro's administration. With the 2023 general election just over two weeks away, City & State spoke with Schmidt about what the commonwealth is doing to better inform voters and to combat fake news before and during the election. 
The conversation has been edited for length and clarity.
What are the advantages and disadvantages of AI in the government space? 
At the National Association of Secretaries of State and in other meetings with secretaries of state, we've discussed and are exploring the possibilities of using AI to combat misinformation – to be a tool for good. I think we just view it through the prism of misinformation in general. Whether it's AI or whether it's just some knucklehead spreading a lie on their social media account, it's all still the same. AI content just has the potential to be far more convincing. 
It surprised me in 2020 that as we encountered no shortage of misinformation in Philadelphia – we were tracking it, we were monitoring it, we were pushing back against it – even the most absurd thing would get traction. Something as sophisticated as AI certainly has the potential to be even more challenging to combat. That's why we're always monitoring both traditional media and social media accounts so we can be aware of what sort of things voters are encountering and do our best to pre-bunk them when we can, to be a trusted source of information for voters and to encourage all the stakeholders in the election space to do their part to be trusted messengers of reliable election information.
You're uniquely aware of the dangers of misinformation and how it can affect people in real life. How has this threat – specifically when it comes to elections – evolved over time? 
It's really remarkable. I was a city commissioner in Philadelphia for 10 years – which really didn't feel like that much time – but misinformation efforts evolved significantly from the beginning of my time as commissioner to now. When I started as commissioner, misinformation would be people putting up signs on telephone poles with the wrong Election Day or doing some anonymous mailers to voters saying something was untrue – either trying to dissuade them or get them to believe Election Day was a different day. Now, it's far more sophisticated. It's not about putting up posters on telephone poles. It's not about some mailers or robocalls. Misinformation reaches anybody with an iPhone, on Twitter, Facebook, Instagram, Threads or whatever they're getting information from. It has the ability to spread much more widely and much more quickly and be much more convincing than some Xerox copy on a poster.
The truth is the only antidote to the lies out there.
– Al Schmidt
How can you be more proactive in preventing misinformation from spreading – or are you limited to doing damage control once misinformation is being spread?
We have a constant voter information campaign, but that voter information campaign is also informed by the sorts of things that we're seeing out there. If we're seeing some particular lie being spread intending to deceive voters or undermine confidence in elections, that would help inform our voter information effort so we can counter that as best we can. But some of these bad-faith actors have millions of people following them – and we certainly don't – so it's so important for us to work with stakeholders in strengthening our democracy and advocating for voters, to help us get the word out and to amplify our message.
Is there anything outside of monitoring the typical misinformation channels that election officials can do to combat misinformation? 
It's a matter of sharing factual information, doing so repeatedly and getting other voices to amplify it as best you can. You can't necessarily shut down people from saying all sorts of things that you see every day on social media, but it's important for us to tell the truth. And while it has only been met with limited success at times, I think the truth is the only antidote to the lies out there; the sooner we know about them, the sooner we can respond with the truth.
If you're an average voter who may not have the time or expertise to research elections thoroughly, where can you go for quick, reliable information about elections and candidates? 
A lot of the voters subjected to these sorts of misinformation campaigns are not necessarily researching elections – they're looking to see what the score was of the Phillies game last night and may come in contact with it one way or another. That's something that makes it so nefarious. There's a whole constellation of sources of trusted information – nonpartisan, nonpolitical information. The more we encourage people to consult trusted sources of information and not get their information from some tweet they casually see, the better – any more than if I get medical information from the barber who cuts my hair. 
What other topics do you hear being discussed at the intersection of AI, misinformation and government operations?
AI is one reason why I think communications – when it comes to elections – shouldn't really be regarded as a support function but should really be regarded as a primary function. When it comes to election administration, it is so important to tell the truth. We've seen when it comes to polling showing people having concerns about elections or questions about elections. Most people aren't necessarily following all this closely. Most, at least in Pennsylvania, are voting in person on new voting systems, or they're voting by mail, which is only a couple of years old in Pennsylvania. So with all these changes, it's no wonder that questions come along. But it shouldn't be a surprise that bad-faith actors are seeking to exploit people having those questions to mislead them and undermine confidence in results when they lose.