News & Politics
Penn, Lafayette among schools under federal hate probe
The U.S. Department of Education has launched investigations into seven schools over alleged incidents of antisemitism and Islamophobia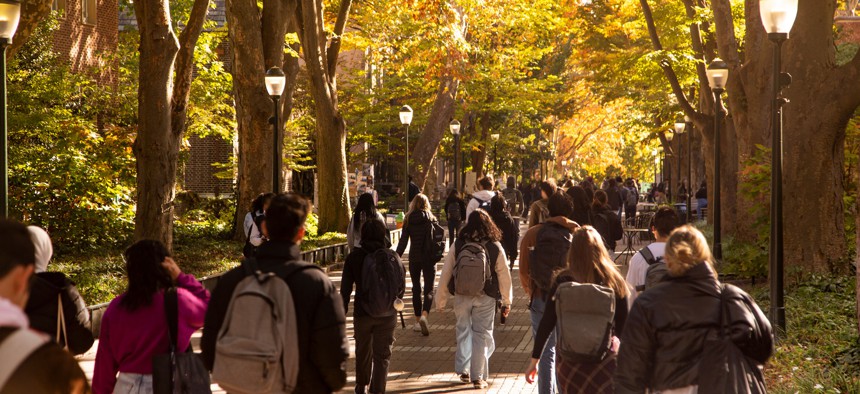 The U.S. Department of Education announced this week that it is investigating seven schools – including two in Pennsylvania – over reported instances of antisemitism and Islamophobia on college campuses. 
In an announcement on Thursday night, the department announced that the University of Pennsylvania in Philadelphia and Lafayette College in Easton are two of seven schools under investigation for "alleged shared ancestry violations of Title VI of the Civil Rights Act of 1964."
The statute prohibits discrimination based on race, color and national origin, as well as harassment based on a person's shared ancestry or ethnic characteristics. The announcement from the Department of Investigation didn't specify any specific incidents that led to the respective investigations, but the department said five complaints allege antisemitic harassment and two other complaints reported anti-Muslim harassment. 
The investigations come as demonstrations, graffiti and threats have proliferated at universities and college campuses over the ongoing Israel-Hamas war that erupted after an Oct. 7 Hamas attack against Israel.
Miguel Cardona, the U.S. Secretary of Education, said Thursday in a statement that the investigations highlight the Biden administration's commitment to protecting students. "Hate has no place in our schools, period. When students are targeted because they are – or are perceived to be – Jewish, Muslim, Arab, Sikh, or any other ethnicity or shared ancestry, schools must act to ensure safe and inclusive educational environments where everyone is free to learn," Cardona said. "These investigations underscore how seriously the Biden-Harris Administration, including the U.S. Department of Education, takes our responsibility to protect students from hatred and discrimination." 
The investigations also come just weeks after the University of Pennsylvania community was roiled by a conference on Palestinian culture that featured several speakers accused of antisemitism – with the fallout on campus resulting in vandalization at the Penn Hillel. 
University of Pennsylvania President Liz Magill announced in early November an action plan to combat antisemitism in response to recent events. And on Friday, following the Department of Education's investigation announcement, Magill revealed the members of the University Task Force on Antisemitism. 
The task force will be chaired by Mark S. Wolff, the Morton Amsterdam Dean of the School of Dental Medicine, and comprised of faculty, students, staff, alumni and members of Penn's Board of Trustees.
"Penn's campus cannot and will not be a comfortable or uncontested space for antisemitism," Magill said in a statement. "The Task Force is critical to Penn's commitment to counter this threat … I believe Penn can become a higher education leader in the fight against antisemitism, but it will take all of us working together to make serious and lasting change."
A spokesperson for Lafayette College told City & State the college was notified of the complaint against the college on Thursday morning. "We do not know why the OCR decided to include the College in this investigation. To the contrary, as recently as last week, students of differing views shared a peaceful gathering on campus to honor all those who have died in the recent violence in the Middle East," Lafayette College spokesperson Scott Morse said in an email. "This event was typical of how our campus community has acted with care and kindness during this time."
"The College maintains a firm stance against antisemitism, Islamophobia, and hate speech of any kind," Morse added. "The College is cooperating and will continue to cooperate fully with the DOE in their investigation."
In an email sent Friday to Lafayette students, faculty, staff and parents, Lafayette College President Nicole Hurt addressed the investigation, saying: "We are one community, and we will remain vigilant regarding any concerns related to the safety and well-being of all our students, faculty, and staff."
Other institutions included in the investigation are Columbia University, Cornell University, Wellesley College, the Cooper Union for the Advancement of Science and Art in New York City, and the Maize Unified School District in Maize, Kansas.