General Assembly
PA Senate approves university funding, omnibus school code bill
Lawmakers also passed a bill that would require state-related universities to release more information about their finances and operations.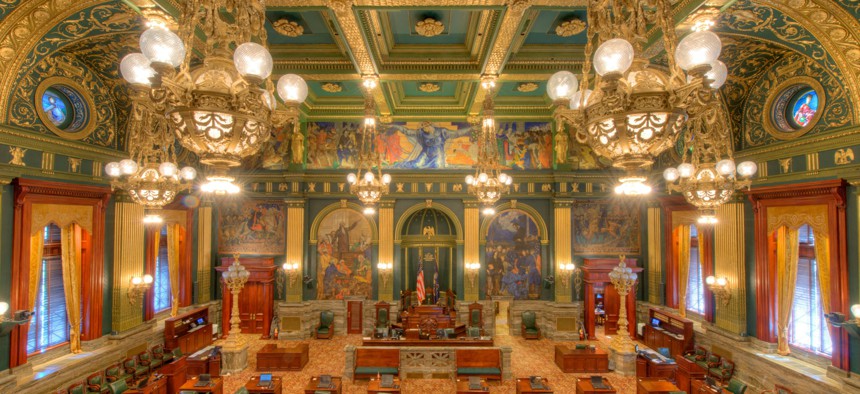 Lawmakers in the Pennsylvania Senate on Wednesday approved a slate of education bills that could bring an end to a months-long impasse on funding for state-related universities. 
The chamber voted 45-5 to approve House Bill 1461, a bill from House Appropriations Committee Chair Jordan Harris that would dole out $603 million to the state's four state-related universities: Pennsylvania State University, the University of Pittsburgh, Temple University and Lincoln University. The 50-member Senate also voted unanimously on legislation from Republican state Rep. Kate Klunk, House Bill 1556, that would require all four of the institutions to publicly release more information about their finances, policies and operations. 
Senate legislators were also able to rally behind a wide-ranging omnibus School Code bill – House Bill 301 – despite some concerns from within both the Republican and Democratic caucuses. 
Here's a breakdown of each of the education bills.
House Bill 1556: Sponsored by state Rep. Kate Klunk, this bill passed the Senate with a 50-0 vote and would require each state-related university to include additional information in annual filings required under the state's Right-To-Know Law. 
According to a Senate GOP analysis of the bill, the universities will be required to provide detailed information about their highest salaries, specific revenues and expenditures, audited financial statements and policies related to retirement and tuition reductions, among other information. 
Senate Majority Leader Joe Pittman said on the Senate floor Wednesday that Gov. Josh Shapiro indicated to him in writing that he intends to sign HB 1556.
---
House Bill 1461: This bill, sponsored by Rep. Jordan Harris, would deliver long-awaiting funding to Pennsylvania's four state-related universities, which have been at the center of a funding impasse that occurred over the summer when the bill failed to receive the two-thirds vote needed to pass. 
The impasse came amid objections from members of the Pennsylvania House Freedom Caucus over the prescription of puberty blockers at a Penn State health facility. Other members called for more transparency from state-related institutions – like what is outlined in HB 1556 – according to Spotlight PA.
In the Senate, though, the bill to fund state-related universities received praise from members of both parties, rather than opposition, and the bill was passed with a 45-5 vote. It would deliver $242 million to Penn State; nearly $30 million for Penn State's Penn College of Technology; $151.5 million for the University of Pittsburgh; $3 million for rural education outreach at Pitt; $158 million for Temple and $18 million for Lincoln University.
In an email, Shapiro spokesperson Manuel Bonder said Shapiro is "encouraged to see important progress" on HB 1556 and HB 1461.
"The Governor knows how critical this funding is for Pennsylvania students and universities and the importance of transparency and accountability around tax dollars, and he will promptly sign both House Bill 1461 and 1556 when they reach his desk," Bonder said. 
---
House Bill 301: This omnibus code bill, which includes a range of provisions and policy changes related to education, received support from both sides of the aisle on Wednesday – as well as some criticisms. 
The legislation, which passed with a 45-5 vote, includes language outlining a $10 million student teacher grant program operated by the Pennsylvania Higher Education Assistance Agency and sets aside $90 million for school mental health grants for the 2023-24 school year. 
HB 301 also expands two educational tax credit programs designed to provide scholarships for public school students at low-achieving schools to attend non-public schools. Those two programs – the Opportunity Scholarship Tax Credit program and the Educational Improvement Tax Credit program – would receive a total funding increase of $150 million under HB 301. 
The legislation also sets up a school repairs program that will distribute grants to schools dealing with environmental hazards like mold or asbestos contamination. According to a Senate Appropriations Committee bill analysis, funding for the program "will be dependent on future appropriations made by the General Assembly."
Democratic state Sen. Lisa Boscola expressed disappointment that funding for Level Up, a grant program targeted toward the state's poorest school districts, was not included in this year's budget. "This proposal fails to include the one program – the one program, Level Up – that actually helps the most underfunded school districts catch up, just catch up a little bit." 
Senate Democratic Leader Jay Costa said Wednesday that HB 301 represents a collaborative effort to address a range of school issues.
"The fact of the matter is we have a comprehensive approach here to addressing many of the issues that are important to our schools, and that's what this is about," Costa said in his floor remarks. "We'll fight another day with regard to remaining issues, whether it be property tax or other types of educational conversations."
Lawmakers will continue to have conversations over education funding after the Commonwealth Court in February found the state's education funding system to be unconstitutional. Lawmakers embarked on a statewide tour in August to hear from school officials, educators and others on how to best fund education in the commonwealth, and are set to conclude the tour on Thursday.
Pittman also acknowledged that, despite recent impasses in the state Capitol over education funding, Wednesday's votes represented bipartisan action.
"Let's not lose sight of what this institution is doing today in a bipartisan way to support educational opportunities in this commonwealth," he said on the Senate floor. "I'm proud of the work that we have accomplished on a bipartisan basis to move education in this commonwealth forward. Who is not for school safety? Who is not for ensuring better facilities? Who is not for ensuring parents are empowered to give their children educational opportunities across this commonwealth?"