Campaigns & Elections
Recount confirms Dr. Oz's victory in Pennsylvania's GOP Senate primary
Mehmet Oz defeated Dave McCormick by less than 1,000 votes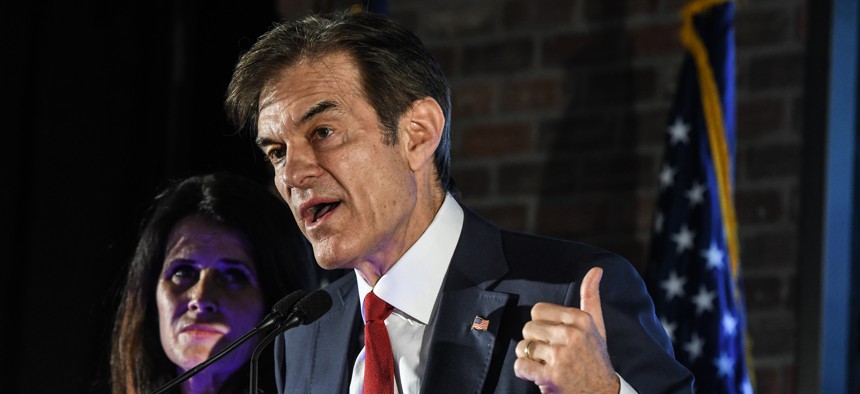 After weeks of counting and recounting ballots in Pennsylvania's Republican primary for U.S. Senate, celebrity physician and former talk show host Dr. Mehmet Oz has been crowned the winner, setting the stage for a battle with Lt. Gov. John Fetterman that could determine control of the U.S. Senate. 
The Pennsylvania Department of State confirmed Wednesday evening that Oz edged out rival Dave McCormick by less than 1,000 votes after the race remained too close to call. The narrow margin between the two frontrunners triggered an automatic recount, though McCormick ultimately conceded before the recount concluded. 
In a statement released Wednesday night, Oz promised to make inflation, gas prices and violent crime key priorities as he shifts his attention to the general election. 
"With the statewide recount officially concluded, it's time to focus on how high the stakes are in November," Oz said. "I look forward to continuing my campaign across our great Commonwealth to earn the support of Pennsylvanians that want someone who will stand up to the liberal Biden-Fetterman agenda leading to higher gas prices, record inflation, and unprecedented levels of violent crime."
Oz was endorsed by former President Donald Trump during the primary race, with Trump saying Oz was "most able to win the General Election against a Radical Left Democrat looking to do unthinkable harm to our Country." Trump later visited Pennsylvania to stump for Oz in the leadup to the primary.
Fetterman, Oz's general election opponent, has been off the campaign trail after suffering a stroke just days before the primary. The medical event prompted Fetterman to undergo a procedure to implant a pacemaker with a defibrillator, and Fetterman later announced he had been diagnosed with a separate heart condition in 2017, and that he "almost died" as a result of ignoring his doctor's advice. 
Oz won the GOP primary with 419,999 votes, according to the Pennsylvania Department of State, while McCormick came in second with 419,048 votes. Conservative commentator Kathy Barnette came in third with 331,864 votes, and former U.S. ambassador to Denmark Carla Sands came in fourth with 73,316 votes.